While in Berlin, the Prime Minister paid his respects to the more than six million Jewish victims of the Holocaust at the Memorial to the Murdered Jews of Europe. During his visit, he laid a wreath in honour of all the victims. He and Chancellor Merkel were greeted by the Mayor of Berlin, Michael Müller, at Breitscheidplatz, central square in Berlin. Both leaders laid a rose in memory of the innocent victims of the Christmas Market attack in December 2016.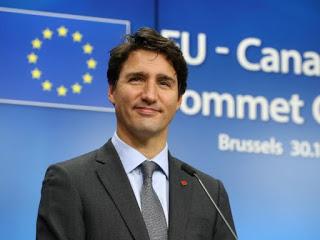 Quotes
"It was a great honour to be the first Canadian Prime Minister to address the full European Parliament following this week's positive vote on CETA. This landmark trade deal puts people first, and will strengthen the middle class on both sides of the Atlantic. Together, I know Canada and the EU will continue to champion progressive free trade deals that benefit everyone."
-Rt. Honourable Justin Trudeau, Prime Minister of Canada
" Germany is a key partner, ally, and friend. We will continue working with Chancellor Merkel to strengthen this important relationship, while advancing our common goals and growing the middle class in both our countries. I look forward to returning to Germany this July for the G20 Leaders' Summit in Hamburg ."

-Rt. Honourable Justin Trudeau, Prime Minister of Canada
Quick Facts
While in Europe, the Prime Minister was joined by the Honourable Chrystia Freeland, Minister of Foreign Affairs; the Honourable François-Philippe Champagne, Minister of International Trade; and Stéphane Dion, who has been proposed as Canada's next Ambassador to the European Union and Germany.
Canada and the EU are expected to implement CETA in spring 2017, which will allow businesses on both sides of the Atlantic to take full advantage of the Agreement's significant economic benefits.
With CETA, Canada and the EU have set the bar high for progressive trade agreements, which will benefit consumers and workers, and protect the environment.
Associated Links