Hey Eric & Sookie Lovers!
Here's a sneak peek at some of the music which will be featured in Sunday's episode of True Blood, "I Wish I Was The Moon"!
The hit HBO vampire drama 
True Blood
 will feature a song by Chicago Americana group The Spares in its July 31 episode, officials from the show announced on July 27th.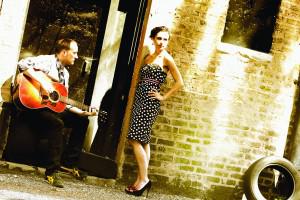 "The haunting twang and dark sexiness of The Spares mixed very nicely in the world of True Blood," says Gary Calamar, the show's Grammy-nominated music supervisor.
True Blood was also nominated for four Emmy Awards earlier this month.
Calamar chose the song "Mexico" to include in an episode entitled "I Wish I Was the Moon" (Season 4, Episode 6). The track was written and recorded by The Spares in 2005 for the group's first CD, Hand Me Down. "Mexico" was also named "Country Song of the Year" in 2006 by the Independent Artists Company.
"'Mexico' is about someone who is frustrated with day-to-day life, and who dreams of making a dramatic change to shake up that routine," says Steve Hendershot of The Spares, who wrote the song along with lead vocalist Jodee Lewis. "What I had in mind at the time was wanting to quit my job at Northwestern University to be a musician. But I can see how it would apply equally well to the people and vampires of Bon Temps, Louisiana."
The Spares have released three CDs since Hand Me Down, including Beautiful and Treacherous Thing in 2007 (a finalist for "Americana Album of the Year" in the 2009 Just Plain Folks Music Awards) and 2010's Everything Is Easy, released last August at a sold-out concert at Chicago's Old Town School of Folk Music.
You can listen to the song, 'Mexico' here: www.thespares.com/listen/
In addition to the song, 'Mexico' by The Spares, True Blood will also feature a song by Neko Case, titled, 'I Wish I Was The Moon'! It's a very beautiful song and makes me think this will be used during the Eric and Sookie scenes!

You can check out the video below!
What do you think of these songs? Share your thoughts below!