If you've been paying attention to the paper-loving blogosphere you've probably been introduced to the wonderful world of Mitchell & Dent. Perth gals Angela Mitchell and Leah Dent (and their talented team) have released stunning paper delights for a few years now. I was lucky enough to grab Angela for a quick chat about their beautiful wedding stationery lines.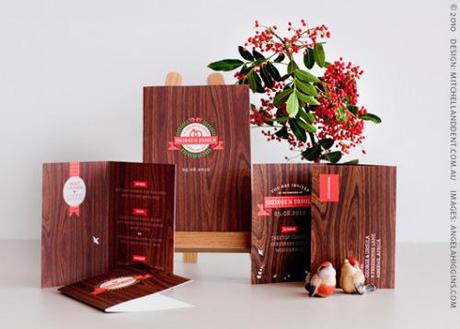 So, for anyone out there who doesn't know, who are Mitchell & Dent? We are designers who found a 1905 Chandler & Price platen press on eBay, a big old beastie we affectionately dubbed 'Herbert'. Mitchell & Dent is a Studio Bomba initiative, established in 2009, and is all about the prettiness of paper ephemera, especially when letterpressed. As graphic designers we recognised there was a gap in the market for really interesting, creative wedding stationery. We have noticed a shift in the way that couples are treating their nuptials. People are tending to abandon formality and are embracing more fun, informal weddings that are more reflective of the couples' personalities. We definitely attract an alternative market; we like to celebrate creativity and we pooh-pooh carbon-copy weddings.
Are your wedding designs seasonal? We don't create new suites by the season; however, we do introduce new designs regularly to keep our range current. We have many orders placed [from] overseas so we like to offer suites that could suit anything from a summer picnic through to a cozy barn wedding. Many of our designs can be customised for birthdays, engagements or other special occasions, so we have a wide range to chose from.
What has the feedback to your wedding stationery been like? We've had an amazing response to our designs and have been featured in The Weekend West, XPress magazine [both Western Australian print publications], Frankie magazine and on many prominent blogs. We have a US agent, The Pressroom and Company, which is brilliant. The postage overseas can cost a pretty penny, so it's much easier for our US couples to order our letterpress designs closer to home.
As a ballpark, how much would a Mitchell & Dent–designed wedding invitation cost? Our invitations cost anywhere from $3.50 to $18 an invite, depending on whether they are printed, letterpressed or wood laser cut, and in what quantities they are ordered. Custom stationery can vary depending on the style of invitation – a simple type-based invitation will cost less than one that requires hand-inked illustrations and custom hand-lettering.
Can you tell us a little bit about the design process? Who does what? We contribute equally to the designs in our range, and have also included some designs from the talented Michelle Leslie. We both love to illustrate, we obsess about paper stocks and are a little nutty about type, so we get particularly excited when someone orders custom stationery and allows us to create something extra special.
What inspires you to create such gorgeous designs? Cats and cuckoo clocks, teacups and tattoo typography, needlepoint and niceties – all things delightfully odd and whimsical.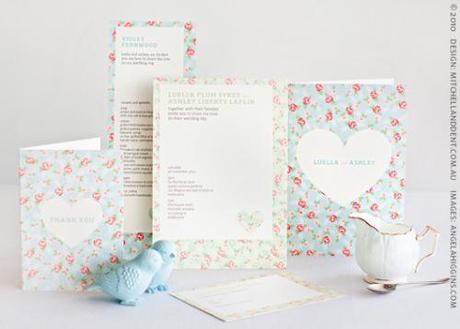 Visit Mitchell & Dent at http://www.mitchellanddent.com.au. (Photo credit: Angela Higgins via the Mitchell & Dent website)
Thanks Krissy from Pretty Paper Things x Nikki and Maree