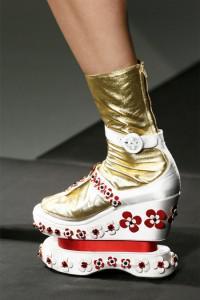 I've known quite a few women who put an outfit together by picking out their shoes first. Yet, in the case of these shoes which were part of Miuccia Prada's spring line, I have to wonder what the rest of the outfit would look like.
Known in Japanese culture as Geta shoes (Japanese footwear that resemble both clogs and flip flops), just where, and on what acid trip, are you going?  And, what is with those metallic built in socks?
Sure, these shoes may be steeped in classic Japanese culture, but with their new-fangled Harajuku look that I'm sure probably smell like the sweet plastic-y bubble gum scent Hello Kitty erasers, these say modern all the way.
Oh, and Prada didn't stop with one style.  There are a few more.  Check them out and tell me if you think they are Pretty or Pretty Ugly?