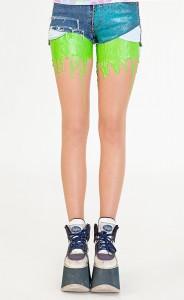 Have you been looking for a way to make it look like paint has been dripping down your thighs? Are you tired of your leg-wear looking normal?  Well, look no further, melting tights (proper spelling Meltingtights) are here.
That's right, folks.  For the cost of $50 you too can look like there is some strange drippy substance oozing from your lower torso with these handmade creations. The look is done by dripping latex and baby powder down a regular pair of hosiery.  Wow, for the first time in my life I actually have sympathy for a pair of pantyhose.  But wait, there's more!
Due to these melting tights being handmade, you have the unenviable task of having to measure your thigh area before ordering!    So, basically you have to take your LEAST favorite body measurement so you can look like you have toxic waste dripping down your legs.  SIGN ME UP!
But wait, there is even  more!
Not only do Melting Tights give you the opportunity to make your legs look like they were covered in neon green toxic waste, but there are a variety of colors to choose from, like: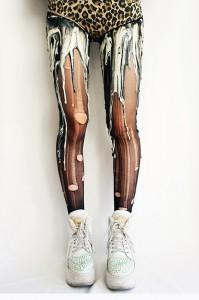 Black and White Meltingtights.  Perfect if you want to look like a prostitute who got beaten with a pimp stick.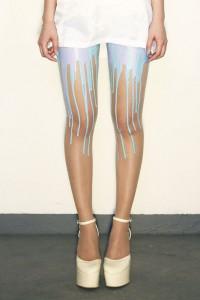 Light Blue Meltingtights.  Also known as "Cue the Gag Reflex" shade.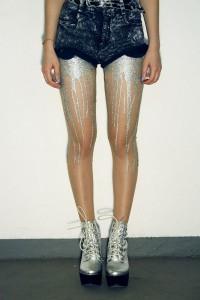 Glitter Meltingtights.  Because glitter on its own isn't attention grabbing enough.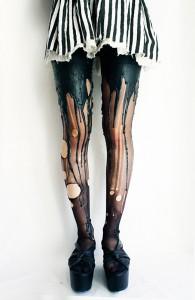 Black on Black Meltingtights.  Because we all love looking like a drunk person who stumbled home after last call and fell into a dumpster.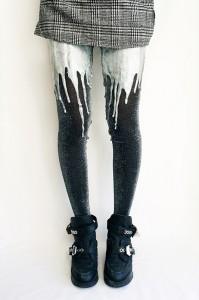 Unfortunately, the Limited Edition Silver Meltingtights are sold out.  Oh boo.
So, what do you think?  Do you think Meltingtights are Pretty or Pretty Ugly?
Disclaimer: Bad outfits styled with these tights are sold separately.