Last night's Pretty Little Liars Fashion Analysis continues!  Almost every outfit in the episode was super trendy and fit each character like dreams.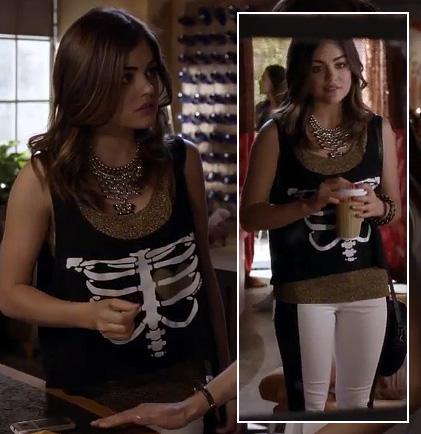 Aria wore a cute skeleton type top, amazing necklace that I am still searching for and these super slimming white jeans from Rag & Bone ($198).  Buy them here.  The thing I cannot get over is the fact that I have never seen anything like these jeans before, but when you think about it, they should be everywhere.  Why?  Well, wearing white jeans is scary, they may cause you to look larger than you really are or emphasize trouble areas.  But, with the black stripes on the side of these slim-fitting jeans, everyone looks thin!  Its genius.  I wish I would have thought of it.  For anyone that is scared to dive in with the classic white jean trend, or that have legs they don't totally adore (and by the way, everyone should embrace their shape, because I guarantee you it is fabulous) these jeans are for you.
Spencer wore this Mango ruffle top and I was sort of surprised.  She usually looks very classic and more country club chic than fashionista, but this top was perfect for her frame and she looked super festive.  Bad news is, this top is sold out for now, but you can still drool over it and attempt to find similar items….I know, it's not the same.