0 Flares
0 Flares
×
New to little Indiana? Subscribe for free to my RSS feed. Thanks for stopping by!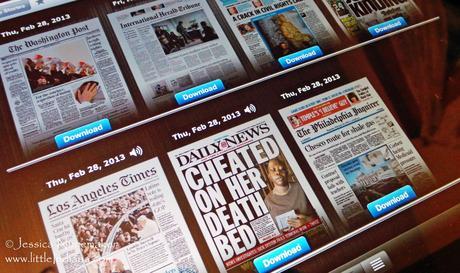 PressReader App Review
When I'm traveling around small towns (and it's not my turn to drive), PressReader will definitely come in handy!
This is the largest digital newspaper kiosk app for Android to Apple to Blackberry and Win7 Slate PC's (to name a few).
PressReader News App Review
In other words: this is one handy and really clever application.
Now, the image to the left doesn't do this app any justice.  Although it may not look like it from my images, let me assure you that PressReader is, in fact, a sleek and very sharp iPad application. Look at all the shiny!
Containing 2,300 digital newspapers from 96 countries in 54 languages–well, it's not just another pretty face. Any news addict can certainly get their fill and then some.
There's a slew of options here. I love choices, don't you? I can browse newspapers from Albania to Zimbabwe. It doesn't mean I can necessarily read them, but it's nice to know I could if I, um, knew how.
One Newspaper App to Rule Them All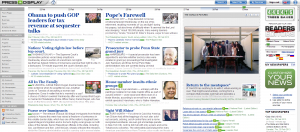 PressReader App Review for PC
Kidding aside, this is an awesome resource for those who do know multiple languages or who may travel a lot out of the country and like to keep tabs on what's going on where and when and with whom.
You can automatically subscribe to your favorite newspapers or magazines inside the app, you can listen to your publication with a neat "listen on demand" audio feature (some of which are read by actual people), and you can even share what you are reading with your favorite social networks like Twitter and Facebook!
I know what I like to read and with the PressReader App, it's always easy to find. I only need to click a few times and dive right in. I'm not navigated away to a website, I stay right here and read from within the PressReader App.
PressReader: News Made Easy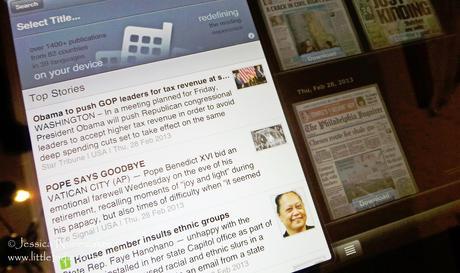 PressReader App Review
My time is precious to me. I don't want to have to shuffle between websites or stay glued to my laptop any more than I already am! Interactive elements like phone numbers and websites make it easy to do what I want to do.
The PressReader App makes it possible to take the news or magazines that I want to read on the go. That's something I can really get into.
Disclaimer:  PressReader provided me with a trial subscription for testing purposes. The iPad is on loan from Verizon Wireless. Opinions, as always, remain mine and mine alone.
Find pictures in Indiana on my Flickr photostream or on the new little Indiana Tumblr blog.
Just don't forget to tell 'em that  little Indiana sent you!
Don't miss a moment. Subscribe to little Indiana and receive instant updates to stay on top of everything "little."
little Indiana: Where to Stay, Play, and Eat in Small Towns in Indiana. Discovering Indiana's best small towns! Now get little Indiana on your Kindle.
Targeted. Relevant. Affordable! little Indiana advertising.