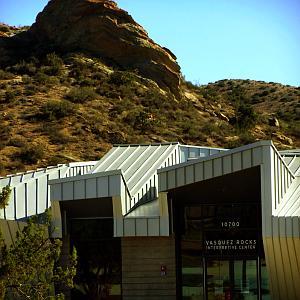 The Interpretive Center at Vasquez Rocks Natural Area Park in Agua Dulce
The County's Department of Parks and Recreation has been named the recipient of a 2013 Award of Excellence by the California Park and Recreation Society for the innovative Vasquez Rocks Interpretive Center, announced Supervisor Michael D. Antonovich.
Approved by the Board of Supervisors in December, 2010 and opened in May, 2013 at Vasquez Rocks Natural Area Park in Agua Dulce, the state-of-the-art interpretive center offers unique recreational opportunities as well as cultural, historic, geological and artistic displays and exhibits. Its self-sustaining design earned the "Leadership in Energy & Environmental Design" platinum-certification for water conservation, fire prevention and septic management.
"The Vazquez Rocks Interpretive Center is a vital resource that will serve current and future generations of students, families, and visitors learning about our county's natural resources, history and wildlife," said Supervisor Antonovich. "We congratulate the Department of Parks and Recreation for this achievement."
In addition to highlighting the County's vibrant equestrian culture, the center offers live animal displays, artifact exhibits and information on Vasquez Rocks' numerous roles in movie and television production.
* * *
For more information on or directions to Vasquez Rocks Natural Area Park, visit parks.lacounty.gov.