Samsung
unveils
Galaxy S5
to focus on what
matters most to consumers
·

  
The company's 5th generation Galaxy S redefines how technology innovation enhances our lives
·

  
Expands Wearable Line
with the Next Generation of Gear devices that offers unmatched freedom and style
New Delhi, March 27, 2014
- Samsung Electronics, India's leading smartphone manufacturer, today introduced the Galaxy S5, blending features that matter most to
consumers
.
The new Galaxy S5 offers consumers a refined experience with innovation of essential features for day-to-day use.
"The Galaxy S5
is yet another great proof point of people-inspired innovation.
Designed to be both effortlessly smart and intuitively simple, the
Galaxy S5
has been created to maximize consumer benefits by integrating superior hardware with enhanced smartphone usability and an iconic design," s
aid
Vineet Taneja, Country Head,
IT & Mobile Division at Samsung India.
"This sleek and innovative smartphone believes in the importance of an effortless user experience, making your life easy and hassle-free; and, it empowers your life, helping take care of your well-being.
At Samsung, we'll never stop pursuing innovation conceived by people, so we can inspire them in return."
The Galaxy S5 combines an advanced
camera,
the fast network connectivity, dedicated fitness tools and enhanced device protection features
as consumers stay fit and connected in style
.
Express modern, glam look
The Galaxy S5 blends iconic Samsung design with modern trends to appeal to a range of consumer tastes and interests. The Galaxy S5 features a perforated pattern on the back cover creating a modern glam look. Its new sleek, contoured shape comes in an array of vivid colors, including charcoal Black, shimmery White, electric Blue and copper Gold, to complement the style of the individual consumer.
Capture the moments that matter
Capturing and saving precious memories is one of the most important smartphone features today. The new Galaxy S5 offers superior camera functionality,
featuring a 16 megapixel camera with an enhanced menu and user interface that allow consumers to effortlessly take, edit and share photos.
The Galaxy S5
offers
the world's
fast
est
autofocus
speed
up to 0.3 seconds
and the
advanced High Dynamic Range (HDR)
reproduces natural light
and color
with striking intensity
at any occasion
Also, the
new
Selective Focus
feature allow
s
users to focus on a specific area of a
n object
while simultaneously blurring out the background. With this capability,
consumers no longer need a special lens kit to create a shallow depth of field (DOF) effect.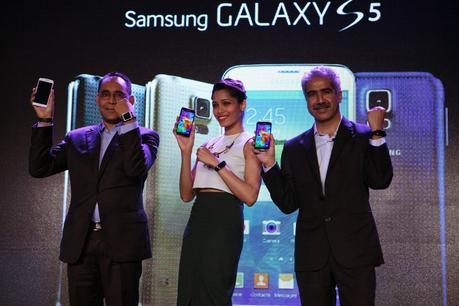 Tap into the fastest connections
The Galaxy S5 offers the fastest
Wi-Fi
performance
available today
, ensuring blazing fast data speeds for unrivaled media consumption and productivity.
The Galaxy S5 supports
fast 3G speeds at 42Mbps and it comes with a powerful Octa-core processor, capable of operating all 8 cores at the same time, to deliver a seamless experience on the Galaxy S5.
Be more fit and active
With the enhanced S Health 3.0, the new Galaxy S5 offers more tools to help people stay fit and well. It provides a comprehensive personal fitness tracker to help users monitor and manage their behavior, along with additional tools including a pedometer, diet and exercise records, and a new, built-in heart rate sensor. Galaxy S5 users can further customize their experience with an enriched third party app ecosystem and the ability to pair with next generation Gear products for real-time fitness coaching.
Essential device protection
The Galaxy S5 is
IP67 dust and water resistant. It also offers a
Finger Scanner, providing a secure, biometric screen locking feature.
The Ultra Power Saving Mode turns the display to black and white, and shuts down all unnecessary features
to minimize the battery consumption.
The next generation of mobile freedom
Expanding its industry-leading wearable line, Samsung has launched three incredible devices – Gear Fit, Gear 2 and Gear 2 Neo that blend style, fitness and convenience to provide ultimate connectivity for the active mobile consumer. Samsung Gear Fit, the industry's first curved Super AMOLED wearable device, empowers consumers to stay physically active without sacrificing personal style or mobile connectivity. Whether used as a standalone or companion device, the Samsung Gear Fit puts people in charge of their personal and active lives while staying connected so they never miss a moment. The Samsung Gear Fit is designed to comfortably contour to consumers' wrists while offering a vivid Super AMOLED display. Much more than an everyday fitness band, Samsung Gear Fit keeps consumers up to date with instant notifications from Galaxy smartphones such as incoming calls, emails, SMS, alarm, S-planner, 3rd party apps while consumers are on the move.
The Samsung Gear 2 and Gear 2 Neo are designed to take the freedom, convenience and style of wearable technology to the next level. The Samsung Gear 2 and Gear 2 Neo offer consumers enhanced connectivity and a completely integrated approach for the most personal wearable experience. Both devices offer a lightweight design with a premium finish that reflects modern trends.
A Camera is equipped to the main body instead of the strap, making the Samsung Gear 2 a sleek and sharp smart companion. The Gear 2 and Gear 2 Neo are essential companion devices, allowing users to accept or ignore incoming calls and messages, and providing instant notification options based on a user's activity and habits. Both devices act as an extension of a consumer's daily life, offering users more control of their lives with standalone features, such as controlling electronic products like TV, set-top box through WatchON Remote application in their own home with an embedded IrLED sensor. The addition of a standalone music player with Bluetooth headset means people can leave their smartphone at home and still enjoy their music on the go.
All three devices - Gear Fit, Gear 2 and Gear 2 Neo allows users to express their mood or coordinate with their outfit with modern and sophisticated strap color options including Charcoal Black, Gold Brown and Wild Orange for Gear 2 and Charcoal Black, Mocha Grey and Wild Orange for Gear 2 Neo and Gear Fit. The home screen background, clock face and font are also customizable to reflect their personal taste. The devices also offer personal fitness coaching in real time, allowing users to develop a customizable fitness routine and monitor their heart rate in order to improve their overall well-being.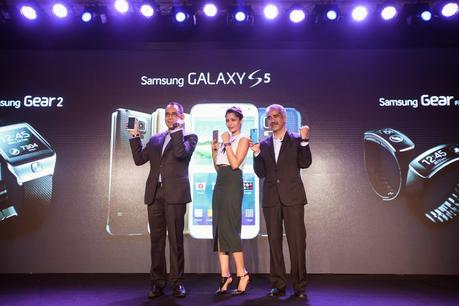 The Samsung Gear 2 and Gear 2 Neo let users connect to a wide variety of Samsung devices and access an enriched application ecosystem as the first wearables powered by Tizen based wearable platform.
"Samsung next generation of wearable devices
were developed to redefine the way we live and to maximize our fulfilment of life,"
said Mr. Taneja. "Our Gear portfolio continues to expand with unique devices designed for extended connectivity features, stylish customization options and a robust application ecosystem. These devices, especially the new Gear Fit, help consumers striving to live fit and active lives, without sacrificing their own personal style or their ability, to stay connected on the go.
These devices enable one of the most seamless, natural and human-centric mobile experiences; opening up new horizons that allows you to live a life extraordinary."
Price
The Samsung Galaxy S5 is priced between Rs. 51,000/- and Rs. 53.000/-. Galaxy Gear 2 is priced at Rs. 21,900/- and both Galaxy Gear 2 Neo and Galaxy Gear Fit are priced at Rs. 15,900/- each. These devices will be available across India through Samsung's retail stores and e-commerce sites on April 11, 2014.
About Samsung Electronics Co., Ltd.
Samsung Electronics Co., Ltd. is a global leader in technology, opening new possibilities for people everywhere. Through relentless innovation and discovery, we are transforming the worlds of TVs, smartphones, tablets, PCs, cameras, home appliances, printers, LTE systems, medical devices, semiconductors and LED solutions. We employ 286,000 people across 80 countries with annual sales of US$216.7 billion. To discover more, please visit
www.samsung.com
For further information please contact:
Purnima Sahni Mohanty   Neha Singhvi/ Reegal Jayani
Samsung Electronics   Weber Shandwick
Email:
[email protected]
  Email:[email protected]

;

 
[email protected]
Mob: 9560033899; 9999976533
Samsung Galaxy S5 Product Specifications:
Network  HSPA + 42Mbps
Display 5.1" FHD Super AMOLED (1920 x 1080)
AP  Octa-core application processor (Quad 1.9 GHz + Quad 1.3 GHz)
OS Android 4.4.2 (Kitkat)
Camera Rear: 16MP (1/2.6", Phase Detection AF)Front: 2.0MP (1920x1080, Wide-angle lens)
Video [email protected], HDR, video stabilizationVideo Codec: H.263, H.264(AVC), MPEG4, VC-1, Sorenson Spark, MP43, WMV7, WMV8, VP8Video Format: MP4, M4V, 3GP, 3G2, WMV, ASF, AVI, FLV, MKV, WEBM
Camera Features HDR (Rich tone), Selective Focus, Virtual Tour Shot, Shot & More
Audio Audio Codec : MP3, AMR-NB/WB, AAC/ AAC+/ eAAC+, WMA, Vorbis, FLACAudio Format: MP3, M4A, 3GA, AAC, OGG, OGA, WAV, WMA, AMR, AWB, FLAC, MID, MIDI, XMF, MXMF, IMY, RTTTL, RTX, OTA
Additional Features IP67 - Dust and water Resistant
Ultra Power Saving Mode
S Health 3.0
Quick Connect
Private Mode
Kids Mode
Google Mobile Services Chrome, Drive, Photos, Gmail, Google, Google+, Google Settings, Hangouts, Maps, Play Books, Play Games, Play Newsstand, Play Movie & TV, Play Music, Play Store, Voice Search, YouTube
Connectivity WiFi: 802.11 a/b/g/n/ac HT80, MIMO(2x2)Bluetooth®: 4.0 BLE / ANT+USB: USB 3.0, NFC, IR Remote
Sensor Accelerometer, gyro, proximity, compass, barometer, Hall, RGB ambient light, Gesture(IR), Finger Scanner, Heart rate sensor
Memory RAM: 2GBInternal Memory: 16GB microSD slot up to 128G
Dimension 142.0 x 72.5 x 8.1mm, 145g
Battery 2800mAhStandby time: 300 hrs (with Ultra Power saving mode) Talk time: 21 hrs
*
All functionality, features, specifications and other product information provided in this document including, but not limited to, the benefits, design, pricing, components, performance, availability, and capabilities of the product are subject to change without notice or obligation.
*
Android, Google, Chrome, Drive, Photos, Gmail, Google, Google+, Google Settings, Hangouts, Maps, Play Books, Play Games, Play Newsstand, Play Movie & TV, Play Music, Play Store, Voice Search, YouTube  are trademarks of Google Inc.
Samsung Gear Fit Product Specifications:
Display 1.84" Curved Super AMOLED (432x128)
Additional Features Pedometer, Exercise, Heart Rate, Sleep, Stopwatch, Timer
Notifications (SNS, Call, E-mail, Apps)Schedule, Smart Relay, Media Controller
Changeable Strap
IP67 Dust and Water Resistant
Connectivity Bluetooth® v4.0 LE
Sensor Accelerometer, Gyro, Heart Rate
Dimension 23.4 x 57.4 x 11.95 mm, 27g
Battery Standard Battery 210mAh Typical Usage 3~4 days, Low Usage up to 5 days
Samsung Gear 2, Gear 2 Neo Product Specifications:
Display 1.6" Super AMOLED (320x320)
OS Tizen based wearable platform
Processor 1.0 GHz Dual Core processor
Memory 512 MB RAM, 4GB Internal Memory
Camera Gear 2: 2 MP AFGear 2 Neo: N/A
Additional Features Pedometer, Exercise, Heart Rate, Sleep, Stopwatch, Timer
Notifications (SNS, Call, E-mail, Apps)Schedule, Smart Relay, Media Controller
Changeable Strap
IP67 Dust and Water Resistant
Connectivity Bluetooth® v4.0, IrLED
Sensor Accelerometer, Gyro, Heart Rate, IrLED
Battery 300mAh
Dimension Gear 2: 36.9 x 58.4 x 10.0 mm, 68gGear 2 Neo: 37.9 x 58.8 x 10.0 mm, 55g