The following is a news release from the Palmdale Water District regarding the background and achievements of its two newest members: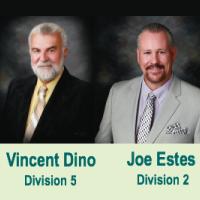 Two new Directors were sworn into office on December 11, 2013: Director Joe Estes, Division 2, and Director Vincent Dino, Division 5.
Vincent Dino has lived in Palmdale since 1993 moving from the San Fernando Valley. On Nov. 5, 2013, Vincent was elected to the Palmdale Water District Board of Directors serving Division 5.
Vincent is a retired Journeyman Electrician of 35 years and has served as Palmdale Planning Commissioner for eight years, serving as Chairman for two terms. Vincent also serves on the Advisory Board for Youth Build and has been a Board Member for over six years donating his time and expertise to ensure the future of young students.
Vincent was honored as "The Man of the Year" awarded to him in 2011 from the Grandsons of Italy in America Southern California for his endless service of volunteering working on such projects as MDA Children's Christmas Party, Senior Shut in Luncheons, etc.
Vincent serves as Treasurer for the Grandsons of Italy in America club. Vincent has been married to his wife, Deborah, for 38 years, raised three daughters, and enjoys his 11 grandchildren.
Joe Estes moved to Palmdale in 1988. Joe and Elsie, his wife of 21 years, are proud parents of two sons. Joe retired after 23 years with UPS.
He served as the Union Steward for Machinist Aerospace (I.A.M. & A.W.) Local 1186, Ambassador to the Palmdale Chamber of Commerce and Council Member for his church. While a Fin and Feather Club Board Member, Treasurer, and liaison to Palmdale Water District, he helped create a program to protect Palmdale Lake and Littlerock Dam from invasive species.
Joe serves on the City of Palmdale Transit Village Neighborhood Advisory Committee. As a dedicated community leader, Joe volunteers to help seniors, veterans, and youth through AV Youth Build, Pony Baseball, Boy Scouts of America, Lancaster Community Shelter, and A.V. Retirement Manor. He works with the City of Palmdale on behalf of veterans to create affordable housing.
Joe was elected in 2013 as a Director on the Palmdale Water District board for Division 2.
* * *
The Board of Directors' meetings are held twice a month. Board meetings are open to the public and held at the District office at 2029 East Ave. Q in Palmdale at 7 p.m. Complete information on Board meetings is posted on PWD's web site at palmdalewater.org. The next board meeting is Wednesday, Jan. 22.