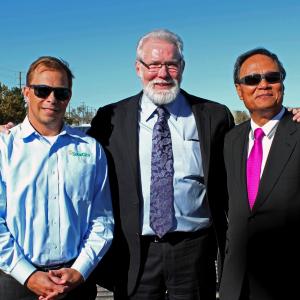 (L-R) SolarCity Project Development Manager Jeff Palmer, Lancaster Mayor R. Rex Parris, and Topco Chairman Joshua Chang – Courtesy of City of Lancaster
The project, consisting of 14,000 ground-mounted solar panels installed on vacant city land, is expected to generate enough clean, renewable energy to annually power more than 550 homes, officials said.
SolarCity will design, build, own and maintain this new system, which is currently under construction. The project has been developed by US Topco and the city as phase one of an ambitious plan expected to bring a total of 200 megawatts of solar to Lancaster. Under Southern California Edison's CREST feed-in tariff program, the utility will pay SolarCity for the solar electricity the farm generates, which will feed directly into the local utility grid, reducing the City's carbon footprint.
"Topco is committed to helping power the world with renewable energy, and the City of Lancaster has done more than any city in the nation toward this goal," said Topco Chairman Joshua Chang in the city news release. "We are proud to partner with Mayor Parris and with SolarCity, who share our passion to provide clean, affordable electricity to homeowners, businesses and government entities, alike."
"Thanks to the many innovative partnerships the City has developed we are continuing the development of Lancaster's solar industry at a very fast pace," Mayor R. Rex Parris said in the release. "This project is yet another crucial step toward our goal of becoming America's first truly Net-Zero city."
This solar project culminates the effort launched in 2010 with SolarCity which is already bringing solar power to hundreds of homeowners, schools and churches across the city; as well as to Lancaster City Hall, the Lancaster Performing Arts Center, and the City's minor league baseball stadium.
"SolarCity is proud and inspired to work with partners like Topco and the City of Lancaster," SolarCity CEO Lyndon Rive said in the release. "Our goal is to continue to make clean energy more affordable to more people and large-scale projects such as this one bring us closer to the goal line."
Earlier this year, Lancaster became the first city in the nation to require housing developers to install solar energy with every new home built. More local projects with US Topco are planned, according to city officials.
* * *
ABOUT US TOPCO ENERGY
US Topco Energy is a full service developer of renewable energy products, specializing in solar power. Working with our national network of qualified dealers and installers, we design and supply solar electric systems for business, residential and government applications. We are committed to promoting a world powered by sustainable energy. Visit the company online at http://www.ustopcoenergy.com.
ABOUT SOLARCITY
SolarCity (NASDAQ: SCTY) provides clean energy. The company has disrupted the century-old energy industry by providing renewable electricity directly to homeowners, businesses and government organizations for less than they spend on utility bills. SolarCity gives customers control of their energy costs to protect them from rising rates. The company offers solar power, energy efficiency and electric vehicle services, and makes clean energy easy by taking care of everything from design and permitting to monitoring and maintenance. Visit the company online at http://www.solarcity.com.