WND EXCLUSIVE
STATE DEPARTMENT TRAINED EGYPT PROTEST ACTIVIST
Army, riot police prep for expected showdown Sunday

 AARON KLEIN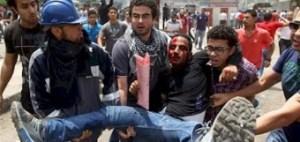 JERUSALEM – A group that is one of the main youth movements helping to organize the anti-government protests planned for Egypt this weekend participated in a
2008 U.S. State Department-sponsored training summit on how to use social media to organize societal change
, WND has learned.
The keynote speakers at the summit were three architects of the online component of President Obama's 2008 campaign. The Obama campaign's use of social media for grassroots community organizing in 2008 was considered a watershed development in political fundraising and movement building.
The protests are slated to take place this Sunday under a campaign called Tamarod, which formed the United 30 June Front, a body that includes a number of youth movements and political parties.
The Tamarod group is calling for the ouster of President Mohamed Morsi and the Muslim Brotherhood from power and a transition period in which the chairman of the Supreme Constitutional Court would serve as acting president until new elections are held.

Mohamed Abdel Aziz, a founder of the Tamarod campaign, said:
"Our vision is not a new revolution; our vision encompasses a bigger wave of the January Revolution."
Tamarod leaders are calling for Egyptian citizens to take to the streets Sunday to demand Morsi's departure.
……… edited material – read whole story at WND.com
- Notice the connections to Occupy? ~TD  
Speaking from Saudi Arabia on Tuesday, Secretary of State
John Kerry said the protests are "spontaneous" and come "from the Egyptian people."
……… edited material – read whole story at WND.com
A PBS "Frontline" profile of the April 6 Movement reported one member visited the U.S. to participate in the State Department-organized "Alliance of Youth Movements Summit" in New York City.
……… edited material – read whole story at WND.com
- "Spontaneous?" From the Egyptian people?" "State Department-organized?" Something not fitting together here?  ~TD  
The summit was sponsored by the State Department in conjunction with Facebook, YouTube, Hi5, Google, MySpace, Gen Next, Howcast Media, MTV, PepsiCo, Mobile Behavior, Univisión, Interactive Media Inc., WordPress.com and others.
- Remember those strangely familiar signs held by Arab Spring protesters? ~TD  
The keynote speakers were three directors of Obama's online campaign in 2008: Joe Rospars, the campaign's director for new media; Scott Goodstein, external online director of Obama for America; and Sam Graham-Felson, director of blogging and blog outreach for the campaign.
……… edited material – read whole story at WND.com
- Obama's campaign directors training Arab Spring "spontaneous" protesters? ~TD  
The 2008 summit led to the creation of Movements.org, a nonprofit organization dedicated to identifying, connecting and supporting digital activists.
Founders of Movements.org include Google director Jared Cohen, a former adviser to both Clinton and Condoleezza Rice; and Jason Liebman, CEO and co-founder of Howcast, the How-to website.
……… edited material – read whole story at WND.com
- Notice the familiar smell of sulfur? ~TD