One of the casualties of my shift to Australia was my preserving pan. There was always some discussion in the family as to whose preserving pan it actually was. My mother couldn't find hers, so she assumed I had  "borrowed" it.
I do recall in my single days taking it into work for our newspaper's annual reporters' room Christmas party. During December various grateful politicians, councillors and contacts used to drop off cartons of beer and the occasional bottle of spirits and these were stashed in the chief reporter's office for the big bash.
Being a responsible young woman, it was my job to make a batch of fruit punch for the non-drinkers. And what better vessel to use that Mum's preserving pan with its mega-capacity.
I used to whip up a fairly palatable concoction of cold tea, fruit juice, lemonade and gingerale, float in some strawberries, lemon slices, mint and ice and voila! – a very harmless beverage to dispense on a warm day.
This particular afternoon the desk has been pushed back, the beer was flowing, the pies and sausage rolls were vanishing in a crumble of pastry laced with tomato sauce, the music was blaring and spirits were generally high. I think that was the party where a couple of the lads decided to do a streak through the centre of festivities and someone – I'm sure it couldn't possibly have been me – locked the office where their clothes had been abandoned.
The clock ticked on, the beer was cut, and we refreshed ourselves with the remaining punch. It went down easily. Like nectar.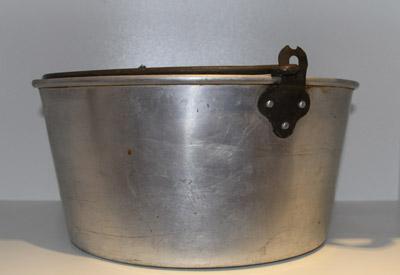 A brisk clean and it will be all set for summer preserving
It was time to clean up. The bottles were consigned to a bin, paper plates and cups were gathered up and I started sweeping the floor while the chaps began to put the desks back into place – no computer cords to worry about in those days of Imperial 66 typewriters.
I suddenly felt extremely weary, almost tired and emotional. The broom was getting harder to push and the room was starting to feel like a merry-go-round. I couldn't understand it as I had stuck largely to my innocuous punch.
Others around me started wilting like lettuce leaves on a compost heap. Eventually the nasty truth struck us – someone had spiked the punch.
An instant witch-hunt soon identified the culprit. It was the police roundsman who should have known better. Seems he had emptied at least one whole bottle of vodka into the residual punch an hour or so earlier. He stopped grinning when we left him to wash the floors and finish the cleaning up.
When I departed New Zealand I gave "my" preserving pan to my mother. I missed it sorely but it was too bulky to bring back in my hand-luggage after she died. In the meantime I have been using a Le Creuset casserole or my pasta pot – neither perfect for the job as they don't allow the preserves the same surface area for rapid boiling when it's called for.
I was surprised it was so hard to track down a real preserving pan in Australia – there wasn't even one on eBay. However, on a recent wander round my local shops, I called in on an antiques place to see if there were any interesting old bits of kitchen equipment and couldn't believe my luck when I spied a 12 quart preserving pan, very similar to my old one, sitting near the front counter. I immediately made it mine.
It's waiting for a good polish and it will soon be pressed into service as I make my seasonal preserves and sauces. Stay tuned…