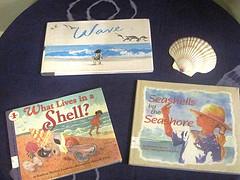 Now that Elle is almost 8 and Aiden is almost 4 I felt like unit studies would be the best way to engage and challenge them both. I chose to do an Ocean unit first, and I really wanted Aiden to have a special area where he could explore the topic throughout the day. I found an absolutely amazing  Montessori based blog called Counting Coconuts that really inspired me. Aiden loves his area and Elle is really enjoying it too.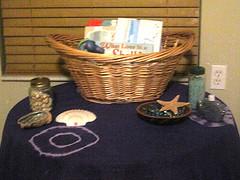 I covered a small table with a beautiful sarong my aunt brought back for me after one of her many scuba diving trips. I placed items on it that I thought would capture Aiden's interest. He is at the age where he will spend forever pouring over the wonder of things.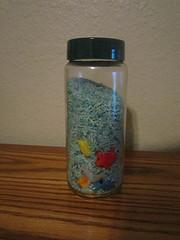 We made a homemade I Spy bottle filled with small ocean animals for the table. I used blue and green dyed rice to hide them in. The little bags of miniatures sold at craft stores are perfect for the I Spy fillers. This has been a big hit. We will definitely be making more of these.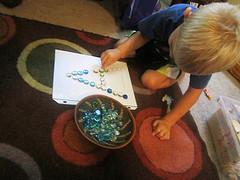 The basket above is filled with flat glass beads which I found at the dollar store (Yay!). Aiden uses them to make his letters, and these have surprisingly been his favorite item to play with. He said he loves the different colors and how smooth they are:)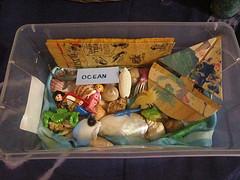 This is a sensory box and is filled with ocean things to inspire the imagination. The bottom is lined with an ocean colored silk scarf. Contents: shells, a pirate map, string of pearls, small ocean animals, Playmobil merpeople and pirates, (love Playmobil!) as well as a wooden sailboat Aiden painted when he was just a little guy.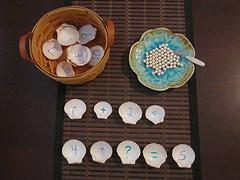 The scallop shells above were re -purposed for Aiden to practice his addition and subtraction during calendar time. Each shell has a number in it. I arrange then in number sentences and then he spoons the correct number of pearls into each shell and counts them to find the answer.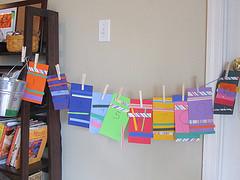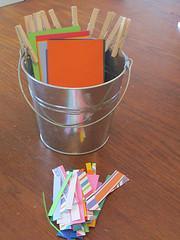 We had fun making beach towels using scraps of cardstock. They are numbered 1-10 and Aiden hangs them on the clothes' line to dry in number order. The clothespin-fine motor skills were an added bonus.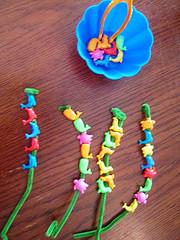 These plastic sea animals were perfect to make patterns for Aiden to complete during calendar time each morning. I placed them on pipe cleaners and then just change them out each day. Elle has really enjoyed making patterns for her brother too.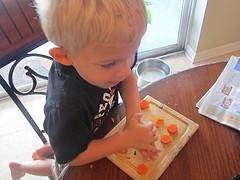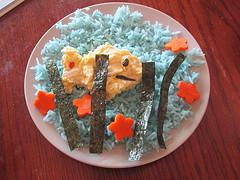 Aiden is using our bento vegetable cutters to cut out carrots for our under the sea lunch. We dyed rice blue, made omelettes and added some Nori/seaweed which, oddly, the children love. Bento lunches are a lot of fun to make and really teach the children to be patient and pay attention to detail.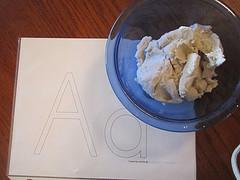 We made playdoh and added a small bag of sand from the craft store. The sand gave it a great texture and it was fun to roll and make letters with.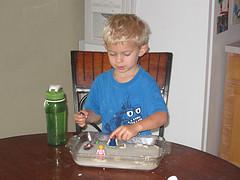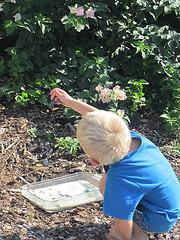 Elle had the idea of making a beach with it. They took out items from the ocean sensory box and played happily for a long time. Aiden liked it so much he took it outside to play with later on in the day.