My child is starting preschool.
This isn't just pissing about at home anymore; this is real life, structured, serious parenthood shit. There'll be schedules and things to remember and actual learning. She'll be chilling out and joining in and hanging her coat on a peg. What an adventure.
I can remember preschool. We called it 'play group'. I had a Mickey Mouse flask, with orange juice in it, because I didn't like milk. The wendy house was covered in snails and the toilet was cold. Licking your hands after playing with salt dough and the boy that was always snotty. There's a home video somewhere, of us holding hands in a circle, dancing, singing something or other. I'd wear my favorite dress. I hope Moo loves this time as much as I did.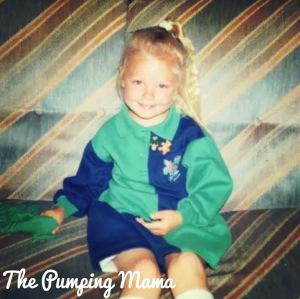 The Pumping Mama, aged 3
What does preschool mean for me? I'll have some freedom. About 8 hours a week. I'm sure there are plenty of people wondering what they'll possibly do with that time. I know exactly what I'll be doing. Sitting on my arse. I'll be eating goodies I usually hide, watching the programmes I've had recorded for months and crocheting to my hearts content.
But seriously, I'm hoping that the break will help me get better. I'm actually kinda relying on it. I'm not sure what else I can tweak to encourage an improvement in my mental health. Absence makes the heart grow fonder, right?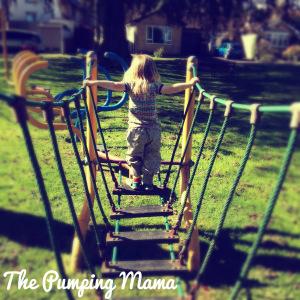 Moo, aged 3
I'm a little sad that there'll be a chunk of her life that I'll know so little about. But I'm certain that the setting I've chosen will enrich her life. When she trots in, with her little backpack, and puts on her preschool slippers, I'll be beaming with happiness. For her, and for me.