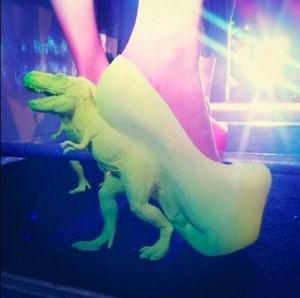 If you're the mom of a young son, I'm sure picking him up from school with a pair of these shoes on would make you quite popular.  Little boys like dinosaurs, right?
After two people sent me a photo of these shoes I knew I had to blog about them.  Unfortunately, even though the internet is buzzing with this photo, nobody can seem to find out who makes them or where they came from.  Hmm, maybe we should be consulting paleontologists, not fashionistas?  Just a thought. 
These shoes are wacky, but sort of fun.  I wouldn't own them necessarily…but they are fun to look at.
If anyone has any information on these shoes let me know!