I am getting all kinds of weepy about the arrival of this next child. I'm already starting to feel nostalgic for the time that Lucien and I have had alone - is that normal?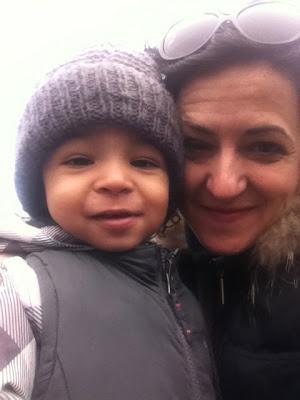 It may just be the pregnancy hormones making me extra sappy – but I am having a hard time dealing with the fact that it won't just be me and my little boy anymore.

It's been two and a half years. We're a team. I just can't imagine it not being that way. Obviously there are others around – 

his Dad a.k.a the love of my life

, for one. But there is a huge chunk of the day – every day – that we have been spending alone together for over two years. It hurts my heart a little that the dynamic is about to change.




I love the fact that I have a daughter on the way. But she's still in the theoretical phase. Theoretically, she's mine. I'm huge. I feel her moving around. But she's not tangible yet. She's not staring me in the face. She's not running into the living room when she wakes up screaming, "HI!" I find myself staring wistfully at my child, all day long, thinking about how long it will be before he has my undivided attention again.

That brings up a little bit of guilt. How is he going to react to a new baby being around? How is he going to respond to seeing me constantly holding another child? If she is anything like he was, there is going to be a lot of holding going on. He breastfed every hour and a half for 45 minutes – for about four months. Good God.

Having kids is a constant reminder of how fleeting every stage of your life is. This stage – of being a mother to only one child – is about to come to an end. He's going to be a big brother. That seriously makes me want to cry. I find myself wondering if he will ever remember this time we had alone together. He's not even three yet, so I'm thinking he won't.

Read the rest on Mommyish...