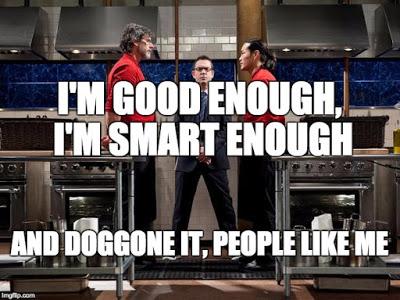 I'm totally addicted to cooking competition shows. They're pretty much the only thing I watch now. Chopped, Cutthroat Kitchen, Master Chef, Hell's Kitchen -- doesn't matter how shitty the show is, if it has people competing over a hot stove I'm into it. There's a few details about these shows that have always stood out to me: how confident all the men are and how those men always underestimate the women on the show. I'm not tackling the latter theme right now - I just want to talk about CONFIDENCE. Boy, do the men of Chopped have it -- no matter how undeserving or displaced it is.
There's a quote I love that originated from a tweet made by Sarah Jaffe: "Lord give me the confidence of a mediocre twenty-something white man." I think about this quote almost every time I watch Chopped.
The men of Chopped are very into their accomplishments and talents. There are some healthy egos here I'm not going to lie. These are quotes taken from ONE episode and just three male contestants.
Women - let this be a lesson to us all.
Originally I was on the pursuit of being a rockstar. I'm absolutely still a rockstar at heart. I was the drummer in the band, but I'm going to be the frontman in the Chopped kitchen. 

I'm just like, "Hey, yo. I can do this." 

You need to be a winner. That's why I can win Chopped. 

I was in a band. Toured the country. Played in front of like 5,000 people. I was like - a rockstar.

I'm ready for anything. Bring it on.

I know that I've created something DELICIOUS. 

Thank you for the challenge. For me, high energy and adrenaline -- it's like I thrive on that. I was in a band for 10 years performing live all over the country, our lead singer used to vomit before shows -- I was the one jumping around like a boxer, getting ready to, like, go. (I wonder what this guy did before he was a chef?)

I'm confident I'm going to go on to the third round. At the end of the day, it's the most delicious dish that gets picked. 
I am definitely gaining speed and I think in the third round I'm just gonna knock 'em dead with the dessert.

I am a little surprised at the judges' decision to chop me. There's gonna be a lot of surprise when I get back home that I wasn't the champion, because I did the best job with all four ingredients.
LOL.
Lord, give me confidence of a male contestant on Chopped.