My friend Lauren recently returned a bunch of maternity clothes I had let her borrow, which was funny because a) I didn't remember giving her maternity clothes in the first place, and b) I had a whole other pregnancy in between this clothing loan. Once I sorted through the bag I realized all the clothes were from my pregnancy with Everett, not Carson. 
The best part? Almost all of the items were purchased at Motherhood Maternity, which I believe was one of three maternity stores in 2011. Fast forward to 2018 and Madewell makes maternity jeans now (!). We are living in a different time, folks, and I am here for it. Which brings me to ... I'm sure all of these recommendations will be irrelevant six months from now, but until then, here are some pregnancy faves I'm enjoying:
// Wardrobe //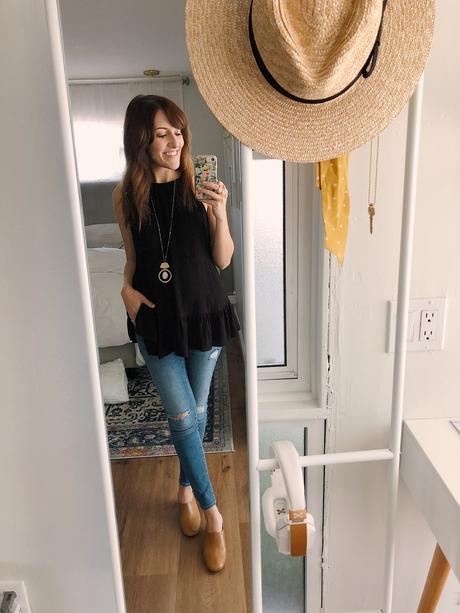 H&M; Mama Skinny Jeans - I thought I'd splurge for the Madewell maternity jeans this time around but truth be told I could not justify the cost for something I'd only wear for a few months (worth noting: if this was my first baby, I 100% would have, because I would have used them for multiple pregnancies). If the Madewell jeans happen to go on super sale in the next month or two I might change my mind, but until then, these H&M; skinny jeans are working out just fine. They were super long but I took a pair of scissors to them using this video tutorial and now they hit right at the ankle where I like 'em. // I got the gray ones on sale in the store for $35 and they're still on sale online but most of the sizes are sold out. They have a ton of colors though in all sizes at regular price. I wear a 4 in these; size up one from your normal size!
Old Navy premium full panel rockstar jeans (pictured) - These jeans were $23 on sale over Labor Day and I figured they were worth a try. For the price tag, I give them a full five stars. The butt doesn't fit as tightly as I'd like it too, but I don't have a ton of junk in the trunk so that's probably more indicative of my body type and less the jeans' fault. // I ordered a 0 short in these and they fit me really well; I'd say these are true to size or even order one size down because they're stretchy. $40-46
ASOS Maternity Swing Dress - It's still 90+ degrees in Sacramento so I won't be wearing this little number for another month or so but the first time I tried it on, I felt like a million bucks. Very flattering fit, and it's light so you could layer with tights or a cardigan once it gets cooler. // $29
Everlane double V dress - Because it's 90+ degrees, I have lived in this dress all summer long. It's not maternity but fits like a dream, bump or no bump. I have the blue and white stripe version but it also comes in plain black, which would transition nicely into fall (pair with a sweater and mules, done and done). // $24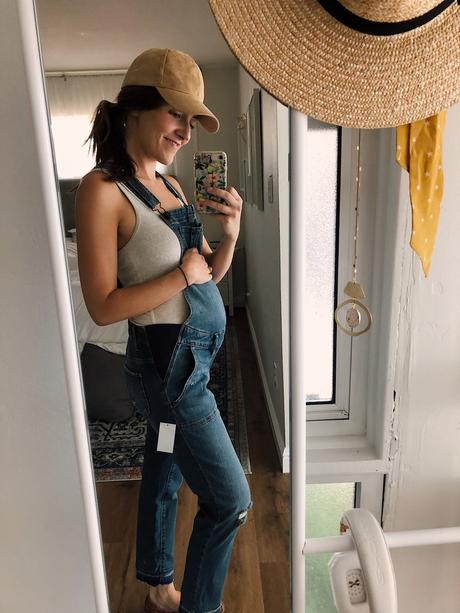 Everyday maternity leggings by Blanqi - This is a brand I did not know about with previous pregnancies (maybe they're new? not sure!) but once I saw ten people raving about them on Instagram last year, I decided to order a couple of pairs on Black Friday (at 50% off!). They've just been sitting in a drawer since November but I recently pulled them out and holy moly they are phenomenal. I bought the maternity leggings and the postpartum leggings, and, being due in February, this is probably all I'll be wearing from December-March. // $64 but you can get 20% off your purchase with this link. 
Motherhood overalls (pictured) - I had been on the hunt for maternity overalls for weeks and then randomly came across these on Pinterest. Despite the great reviews, I was too nervous to order them online and ended up driving all the way to the mall to try them on in person. FIVE STARS. They're soft and stretchy without being too tight, and hit right at the ankle (no DIY hemming required!). I will be wearing these nonstop the next few months. // $59.98 but I got for $42 via the Labor Day sale!  
// For Acne // 
This acne spot treatment + these acne healing dots - Sigh. Both of these things are stupid expensive but the bottom half of my face looks like a pepperoni pizza and I am desperately trying All The Things. Apple cider vinegar, charcoal bars, tea tree oil—you name it, I have Amazon primed it to my house. My hormones are out of control and it's the worst. Cheaper versions of the Peace Out acne dots that I also use and like: these ones and these ones. And yes, I have basically purchased every zit patch on the market over the last three months. Brett asked me recently how much money we are spending on acne products each month and I had to remind him I'm growing a human and it's best not to ask questions like that.
// For Skin + Stretch Marks // 
I am a creature of habit and for all three pregnancies have used Palmers Cocoa Butter religiously. When I have two extra minutes to spare, I add a tiny bit of this self-tanner, a few drops of jojoba oil (I buy it from Trader Joe's), and a dollop of this lotion (love the smell, no parabens). I just mix everything into my hand and combine, like my own personal pregnancy potion.  
// For Exercise // 
Robin Long Prenatal Pilates - I have never met Robin in real life, but we've been Internet friends for ages and I am a total fan girl of everything she does. These workouts range from 12-32 minutes and target everything from arms and butt to core and pelvic floor. Best part? You never have to leave the house. You can use promo code "coffee" for $15 off if you want to check it out!
This Prenatal Power Yoga workout - Loving this 23-minute power yoga flow. 
Class Pass - I'm still using Class Pass once or twice a week, almost always for yoga but as soon as that gets to be too hard (I practice at a pretty challenging studio), I'm probably going to switch to barre because the classes are shorter (50 min vs. 75 min) and most of the exercises don't even need to be modified. If you're local to Sacramento, I love love love Yoga Shala and Ubarre. 
… that's it! Fellow pregnant friends: whatcha lovin' these days?
p.s. I'm also chatting about all things pregnancy with my bump buddy April on today's episode of The Coffee + Crumbs podcast.