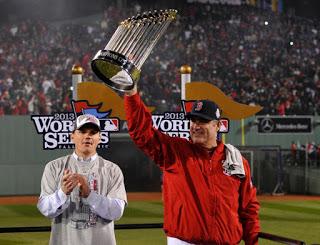 How many times have you and I as Red Sox fans thought, "Boy, it just can't get any worse?"
I thought that on Wednesday afternoon, after the Red Sox were swept by the worst team in MLB, the Miami Marlins, and gave up a 10-run inning to them in the process.
But nothing could compare to the news that came out on Friday afternoon.
John Farrell announced during his daily press conference that he has been diagnosed with Stage 1 lymphoma, which was caught while he was having hernia surgery last weekend in Detroit. The hernia may turn out to be a blessing in disguise, as the lymphoma was caught in the curable stage.
Farrell has stepped away from the Red Sox for the rest of the season, and will begin chemotherapy on Tuesday at Massachusetts General Hospital. Bench coach Torey Lovullo will take over the team as interim manager for the balance of 2015.
Farrell is just 53 years old (7 months younger than I am). The news hit the Red Sox team hard, and David Ortiz later said that Hanley Ramirez was in tears when he broke the news to him.
We can only offer the Red Sox skipper our thoughts and prayers, and he gets through chemoptherapy with good health. Hope to see him back on the field in 2016.