Muslims often proclaim "..we acknowledge Jesus is a prophet." So why do Muslims massacre His followers?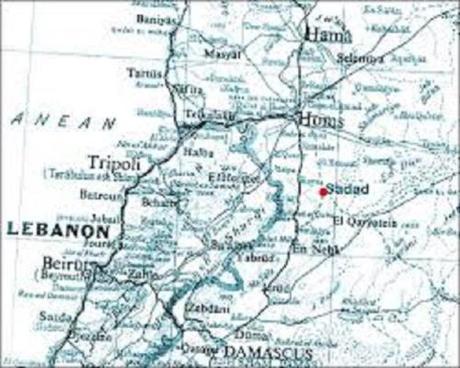 Voice of the Martyrs' ICommitToPray, Dec. 3, 2013, is asking us to pray for Christians in a historically Christian village called Sadad in Syria, who were brutally attacked by the so-called "rebels" who are in reality Islamic jihadists.
On October 21, 2013, "thousands of Christians" were forced to flee their homes and dozens were killed when an Islamist group linked to al-Qaida — Jabhat al-Nusra or Nusra Front – stormed the ancient Christian town of Sadad, about 60 miles north of Damascus. (Since Wikipedia says Sadad's population is about 3,000, that means the jihadists had forced all the inhabitants of the village to flee.)
______________
Note: Sadad is a very old village — probably the one mentioned in the Old Testament (Book of Numbers, 34:8; Book of Ezekiel, 47:15) as the northeastern boundary of the biblical land of Canaan, under the name Zedad, translated as Sedada in the Vulgate. Isolated on the edge of the desert, the community has remained predominantly Syriac Orthodox Christian, even after the Muslim conquest of Syria during the 7th century. Aramaic is still spoken there.
______________
The Christian residents of Sadad fled for their lives, but the jihadists robbed them of money, documents and other valuables. The jihadist "rebels" also looted and destroyed many homes, businesses, schools and other public buildings, and they attacked church buildings, marking them with insulting graffiti.
Government forces re-captured Sadad on Oct. 28, enabling Christians to return to their homes. When they returned, they discovered a mass grave filled with almost 40 bodies.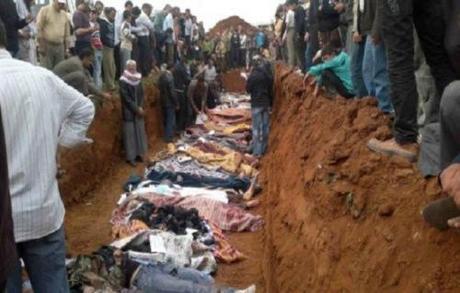 Mass grave of Christians in Sadad (

source

)
Independent Catholic News reports on Nov. 4, 2013 that "The bodies of 30 Christian civilians, including women and children, killed by Islamist militias, have been found in two separate mass graves, in the city of Sadad. The number of Christian civilians confirmed dead in this small town halfway between Homs and Damascus has reached 45. Many are injured and several are missing."
Christians are a minority in Syria, toward whom Muslim hard-liners among the "rebels" are growing even more hostile. Christians and other non-Muslim religious minorities in Syria tend to support the government of President Bashar Assad if for no other reason than that Assad allows freedom of religion and, unlike radical Muslims, does not persecute Christians or Jews.
Just remember that Obama had wanted the United States to go to war against the Assad government to help these jihadist "rebels". (See FOTM's "Syria War" page.)
Just remember that Obama's CIA is still training and arming these jihadist "rebels."
~Eowyn