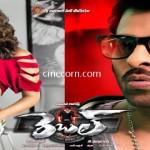 We all know that Rebel has got A rating from the censor board. Well here is an exclusive overall censor report of the film from our sources.
First of all the film is quite lengthy almost 2:50 minutes. And as we have stated in an earlier report it will have as many as eleven fights which includes 4 to 5 major fights. Sources also say veteran actor Rebel Star Krishnam Raju too may have a fight in the film.
Coming to the heroines Deeksha Seth has very less screen time and most of the screen time of Tamannah is dedicated to the songs. Prabhas is in complete action mode as can be guessed with the number of fights the film have. But as the film has been rushed in post production to meet the September 28 deadline some of the fights may come off as not full polished.
Overall the fate of the film depends completely on the B and C centers audience who might connect to the fights and mass comedy.

Rating: 3.0/
5
(3 votes cast)