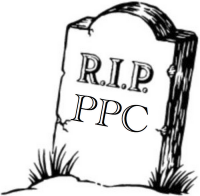 Hold on, just a cotton picking minute, you cry - you're talking about the central nervous system of all online marketing, you're way out of line. But hear me out (I am
not
a Google basher -
note to Google bots, please spider the word Not
). I dare you to dispute my top ten reasons:
You are NOT what you click
Under 100 keywords drive 95% of search traffic (outside of e-commerce)
PPC based search agencies struggling to add value and diversifying
Google's infamous long tail of niche terms/hidden keywords with ROI busting returns has been docked by Google's broader matching software.
Auction based pricing model dominated by intermediary aggregators who squeeze out end user advertisers by selling on the cheaper click traffic as higher priced leads
Google diversifying into display and affiliate marketing. We now see comparison site ads and email signup ads mixed in with search results
Advertisers endlessly question the true ROI of search ads, but for many years have felt there has been no credible alternative
Advertisers demand leads and customers rather than just anonymous click traffic
Performance Marketing is becoming a by-word for all marketing. Who would choose non-performance in this brave new marketing world where low-risk and ROI are lord and master?
Social media is rapidly becoming the filter through which people view the internet rather than tapping words into search engine boxes.
I've no doubt Google knows all of this which is why our search world will change beyond all recognition over the next 24 months. It will be Google search, but just not as we know it!