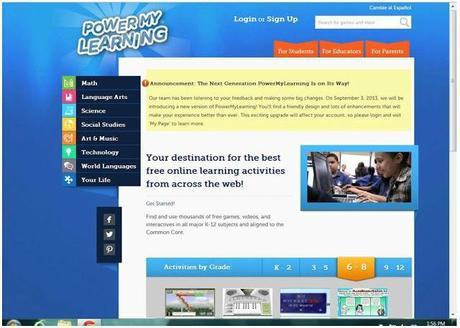 Screenshot from PowerMyLearning.org
Thanks to Sverve, I was offered the chance to review PowerMyLearning. Even though I was compensated for this review, the opinions expressed here are my own. PowerMyLearning is a one-stop online platform for educational games, interactive activities and videos for students in grades K-12. The games, interactive activities and videos are chosen from a variety of other sites such as PBS and FunBrain and are linked to the Common Core State Standards, including subjects such as English Language Arts, math, science, social studies, and more.
Basically, instead of allowing your student to search the entire web for an appropriate educational game, video, or interactive task, you can direct them to PowerMyLearning and everything they need is right there!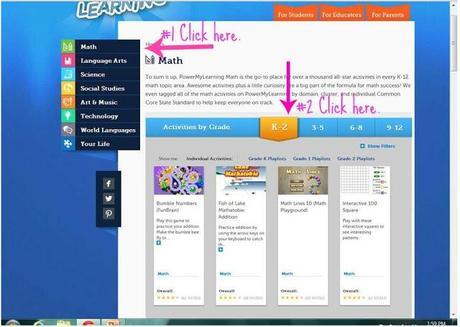 Screenshot from PowerMyLearning.org
All of the activities are organized according to grade level and subject matter. In addition, there are sections for students, parents, and educators in which there are a variety of tips and suggestions for each group.
While I reviewed this site as a parent, I also have the ability to look at it as a teacher since I was once a Language Arts teacher and had to deal with guiding students through the vast online world many times. In both instances, I can really appreciate the value of having great activities all in one place so that I don't have to worry about students going to the wrong site or playing games that have no educational value. I was asked to have my five-year old son who will be entering Kindergarten this year to use the site, specifically in the math section. He was excited about it since he would be able to play more games online!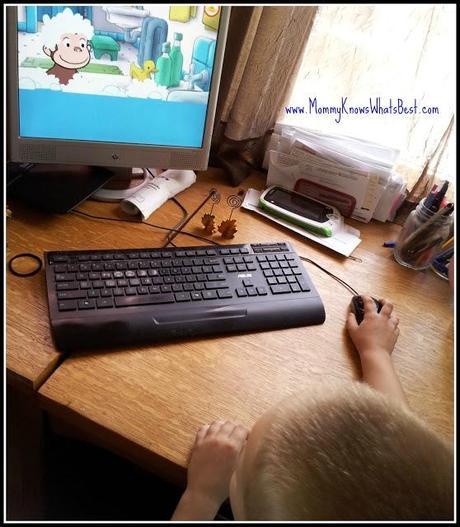 For me, it was a bit confusing where I should go first on the site. I don't believe there was a tutorial when I signed up on the site to direct me where to go first or how to use the site. I got the basic gist of it, but I know there was probably more I could have learned from a tutorial without having to search the entire site myself.

For example, when I hover the cursor over the button for math, a menu pops up for the grade levels. Under each grade level, a drop down menu shows up. When you click on one of those options, it takes you to a page with the Common Core Standards and playlists that are associated with those standards. I can see that being very useful to a teacher, but if my son were to click on that he'd be lost. 
I also don't think I could allow my son to navigate the site on his own. Even if I clicked on the right tabs to get him into the right section, I would still need to be right there when he finished a game to navigate to another game.
Other than navigation, many of the games were familiar to us as we have seen them 
on other sites before. I like that they were from trusted educational sources and not just random sites.
What I liked about it:
The games and activities were properly geared towards his age group

There were a variety of activities, even within the math section 
What I think can be improved*:
The labeling of the activities according to grade level

The speed of the site

The organization of the tabs

Site navigation
All in all, aside from some of the technical things that could be adjusted, PowerMyLearning is a great central site for educational games, interactive activities, and videos. Sign up today for free! 
*According to the site, there will be some changes to the site that they made after getting some feedback from the site's users. Starting September 3rd, they will be launching a new platform that promises to be even better than before! The changes include:
Faster site speed

Easier navigation

More games, videos, and activities

Easier search options
I welcome these changes and I'm looking forward to seeing the new and improved site! 

Marissa is a stay-at-home mom who writes pregnancy and parenting articles on HubPages as ThePracticalMommy, as well as shares her motherly escapades on Mommy Knows What's Best. 
Mommy Knows What's Best was compensated for this post and received free product for this post. My opinions are honest and my own.