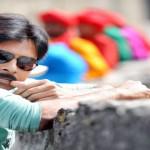 Fans of Power Star Pawan Kalyan were a disappointed lot yesterday despite the festivities all around. The festive day of Vinayaka Chavithi was being built as the day for the unveiling of the first teaser of the upcoming film of Pawan Kalyan, Cameraman Gangatho Rambabu. But there was absolutely no sign of a teaser the whole day and this had disappointed the fans.
The people 'who-know-all' once again escaped by saying that they haven't given an exact time frame, so they are not the one to be blamed. As if all these was not enough, no reply or update from director Puri Jagannadh regarding the teaser or other details of the film like audio release and release date has angered many fans.
We guess the recent quick releases from Power Star Pawan Kalyan, has made the fans an excited lot and they expect things to happen on time forgetting the past. Well this should be a reminder of the past of the star when for months together there used to be no news, pictures or any other updates. Power Star fans should be the last one's to be upset or disappointed at such last minute delays.

Rating: 0.0/
5
(0 votes cast)