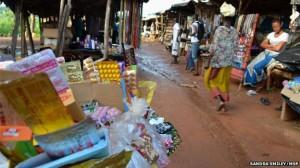 The media has covered Ebola like a blanket for the past several weeks. But the reality is that this outbreak has been an issue for much longer than the media has reported.
The Ebola epidemic began in Guinea at the end of 2013 and has spread to Liberia and Sierra Leone. While their proximity plays an obvious role in the deadly virus spreading, a much bigger issue has turned this into the largest, most severe and most complex outbreak in the history of the Ebola virus.
The issue is extreme poverty. In West Africa, it has created enormous challenges in stopping the spread of Ebola and providing care for all patients.
According to the Centers for Disease Control (CDC), strict isolation of infected patients is essential to reduce transmission of this virus. However, poverty in this region often makes that simply impossible. In the affected countries, there is a severe shortage of trained medical staff, basic equipment and medical and isolation facilities to handle the exploding number of people that need care.
Liberia has 70,000 people for each doctor. Sierra Leone has 45,000 people for each doctor. Guinea has 10,000 people for each doctor. To put that into context, the United Kingdom has 360 people for every doctor.
Not only has poverty significantly fueled this outbreak, the outbreak is fueling poverty—a devastating feedback loop. Commerce has collapsed; countries are virtually shut down. Now famine looms. The World Health Organization (WHO) reports that nearly 170 farmers and their family members in Liberia's Lofa County have died from Ebola. The Lofa County fields, once called Liberia's breadbasket, are now bare. Airdrops of emergency food supplies may be about to begin.
With the world awakening to the risks posed by Ebola, we fervently hope united efforts to first contain and then erase its deadly arc will run long and deep and address the root causes of the epidemic. After all, Ebola won't be the last exotic pathogen to incubate among the world's poorest peoples and then start to spread.
Photo from BBC News.