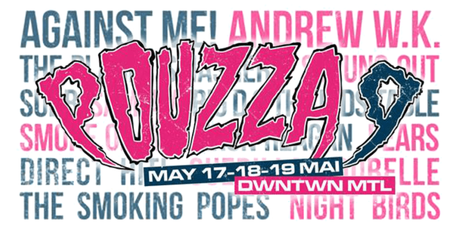 Punk rock is coming back to downtown Montreal when Pouzza Fest rolls into town May 17 to 19. And with a HUGE lineup announced, this is going to be a helluva good time!
With headliners like Against Me!, Andrew W.K., and The Planet Smashers, Pouzza 9 has big-name talent and a ton of other bands coming to the city. So many bands that we didn't even count. This many bands on one festival lineups is a promise that fans will have choices to make, options at all times, and a lot of punk rock to party to.
Tickets for Pouzza Fest are available now, with a three-day pass at $125 - and single day passes available for $60 each. Get 'em!
There are bands in the 2019 lineup that we know and have seen and would see again in a heartbeat (don't miss Bad Cop / Bad Cop and Anti-Queens) and bands that have us very intrigued and ready for May.
Note 1: We lied, we counted and right now there are 176 bands listed on the website.
Note 2: Punk bands have the best names!
Now, check out the full, big, long list of artists playing Pouzza Fest 2019 and stay tuned for more news and updates as we get closer and closer to
Pouzza Fest 2019 Lineup!
⚡🤘Against Me!
⚡🤘Andrew W.K.
⚡🤘Strung Out
⚡🤘The Planet Smashers
⚡🤘Subb
⚡🤘Samiam
⚡🤘Big D And The Kids Table
⚡🤘Ogikubo Station
⚡🤘Smoke Or Fire
⚡🤘Iron Reagan
⚡🤘Pears
⚡🤘Direct Hit!
⚡🤘Guerilla Poubelle
⚡🤘Smoking Popes
⚡🤘Night Birds
⚡🤘Sincere Engineer
⚡🤘Bad Cop / Bad Cop
⚡🤘War On Women
⚡🤘The Dopamines
⚡🤘Get The Shot
If you love punk rock, if you want to party, if you want a reason to spend three days in Montreal this May, Pouzza Fest is for you!