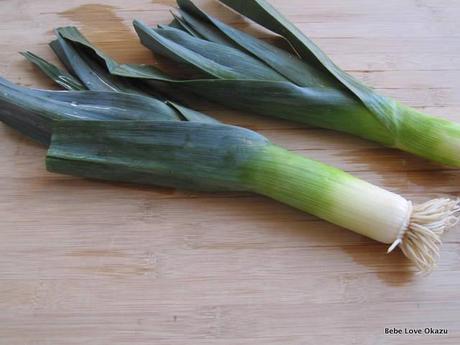 Perhaps you've noticed, perhaps you haven't, but it's been a challenge for me to get anything posted on my blog these days. Blame it on technology, too many things to do and not enough time, priorities, sleep deprivation, or sheer laziness. Whatever the case might be, tonight I'm motivated to share this soup recipe because it's something I've made a few times over the last month and my family really enjoys it.
What motivates me to post this, however, is knowing that one day Bebe E will remember this creamy soup that she enjoyed and wonder how I made it, and she'll be able to look it up on our family recipe journal. This brings a smile to my face.
Lately, while we're eating dinner, if she likes something, she will say to me, "Mmm, yummy! Mommy, I really like your food you make for me." I like to respond with, "I made it with love and kindness." She usually just smiles and says, "thank you."
Honestly, what more could a Mommy ask for!
So finally, finally, here's our family's latest favorite soup. I think the recipe is pretty forgiving and you can adapt the soup to your preference of thickness and richness. The base for the soup is similar to our favorite chicken corn chowder soup (recipe available here). It's just in time for our incoming rain"storm". Every time it rains in Southern California it is a MAJOR event, so we're bracing ourselves with a big pot of soup.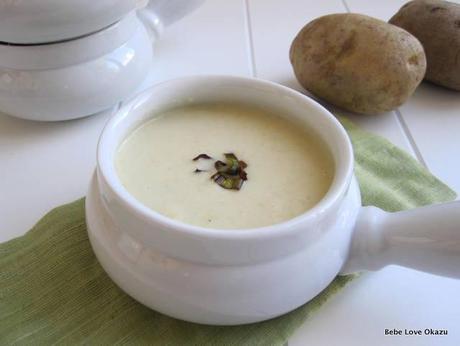 Print
Potato Leek Soup Author: 
Judy | Bebe Love Okazu
Recipe type: 
Soup
Serves: 
4
  Ingredients
2 to 3 leeks, white and light green yellow parts only
3 medium potatoes
2 tablespoons unsalted butter (or Earth's Best butter substitute)
1 teaspoon extra virgin olive oil
3 cups water
1 to 2 14-ounce cans of chicken (or vegetable) broth, depending on your preference of soup thickness
1 cup heavy cream (substitute half-and-half or skim milk if preferred)
Kosher or sea salt to taste
2 -3 dashes black pepper
White pepper, to taste
Instructions
Chop leeks lengthwise in half and then slice. Use only white and light green parts. Discard dark green leaves. Reserve a few slices of the leeks for garnish.
In a large stock pot or dutch oven melt butter with olive oil. Add leeks and season with salt. Cook until tender.
Peel and dice potatoes and add to pot with water. Boil 10 – 15 minutes until potatoes are tender and cooked through.(Note: I simmer the potatoes in water, and wait to add the chicken stock.)
Using an immersion blender, puree leeks and potatoes until smooth. Don't over mix.
Add heavy cream. Next add 1 to 2 14-ounce cans of chicken stock to achieve your preference of soup thickness.
Add salt and white pepper to taste.
Optional: fry reserved leek slices in canola oil for garnish.
3.1.09