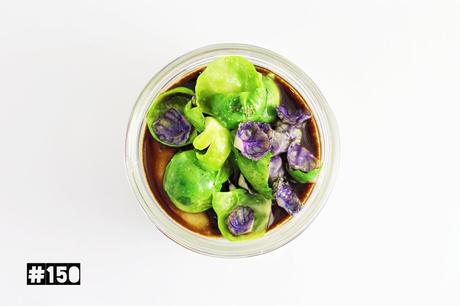 This is more or less a full main course served without the meat. It´s a potato cream seasoned with truffles which actually really is a slightly thinner potato mash with loads of fat that I seasoned with truffles. On top is a red wine sauce and on top I´ve put some leafs of brussle sprouts that is quickly sauteed in butter with a little bit of salt and pepper.
The biggest challenge with the dish is to get your hands on a good beef stock. I usually save all my beef trimmings in the freezer and once in a while defrost it all and make a huge batch of beef stock that I then freeze in smaller plastic jars so if I get the urge for some red wine sauce I have some stock ready. If you´re not into making your own stocks buy the best one you can find and make sure it´s not to salty since you will reduce it when you make the sauce. If you´re friendly with a good restaurant you could ask to buy a little bit straight from the kitchen.
The way I serve it in a glass jar is also a great way to serve this as a side to meat, it looks very elegant and you can prepare a bit before serving.
Potato cream with truffle and brussel sprouts

potatoes
cream
butter
black truffles (or truffle oil)
beef stock
carrots
onion
garlic
red wine
brussel sprouts
salt
pepper
Peel and boil the potatoes in salted water, when done discard the water and let the water dry out for a few seconds. Whisk or press the potatoes into a cream with cream, butter, salt and pepper. Finally season the cream with the truffles.
Dice carrots, onion and garlic and saute on medium heat for a few minutes until golden, add red wine and reduce on medium heat until only a fourth of the wine is left. Add the beef stock and reduce on low heat until it´s heavily reduced and starts to thicken. You will only need a spoonful for each serving so don´t be afraid to reduce it too much, as long as you don´t burn the sauce you can always add a little bit of water. Run the sauce through a strainer to get rid of the vegetables.
Remove the leafs from the brussel sprouts and saute them quickly in some butter with a little bit of salt and pepper. Serve.