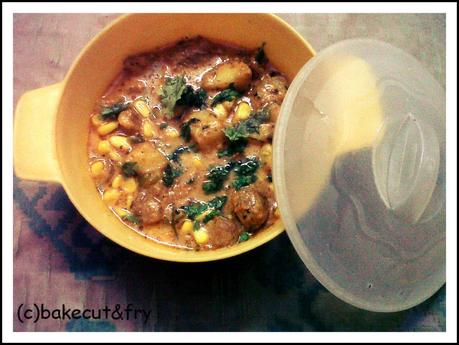 Servings : 4 persons
Preparation Time: 15-20 mins
Cooking time: 10-15 mins
Ingredients:
Potatoes along with skin (Boiled and Diced) : 5
American Sweet Corn :
1 cup
Green Capsicum (diced) : 2
Tomatoes (finely chopped) : 4
Onions (finely chopped) : 2
Bay Leaf : 2
Black pepper whole : 5
Green chillies : 3
Cumin seeds : 1/2 tsp
Dried Red chillies whole : 5
Cardamom pods : 2
Turmeric powder : 1 tsp
Coriander seeds : 1/2 tsp
Yoghurt (Dahi) : 2 tbsp
Oil + Oil for frying : 3-4 tbsp
All purpose flour (Maida) : 3-4 tbsp
Method: 
1.Take potatoes along with skin (boiled and diced), coat them with maida and deep fry till light golden brown. Set them aside.
2. Heat oil in a non stick pan add cumin seeds, bay leaf, cardamom, red chillies, green chillies, whole black pepper, coriander seeds, turmeric powder, onions and tomatoes. Saute till onions and tomatoes are cooked. 
3. Blend the above mixture (step#2) with dahi in a mixer to make a fine paste.
4. Heat 1 tsp oil in a non- stick pan, cook the above blended masala for five mins at low flame.
5. Add capsicum, american sweet corns, potatoes and salt to taste.
6. Add 2 cups of water and cook for another 5 mins. 
7. Garnish with fresh corainder leaves.
8. Serve with Lachcha Parathas or roti. 
Handy Tips:
Instead of Maida, cornflour can be used.