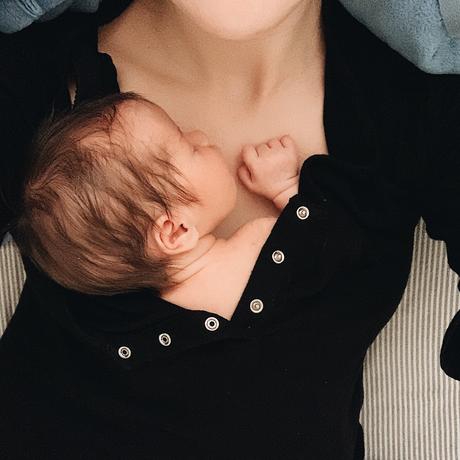 Hello from postpartum hibernation headquarters! We are currently living our best life—sleeping all day (her), rarely checking e-mail (me), and eating on demand (both of us). Popping in today to share a few of my postpartum faves … some old, some new.
Blanqi postpartum leggings. Have been wearing these every single day with my fabulous granny-inspired hi-waisted postpartum undies. Wear both at the same time to feel like a million bucks.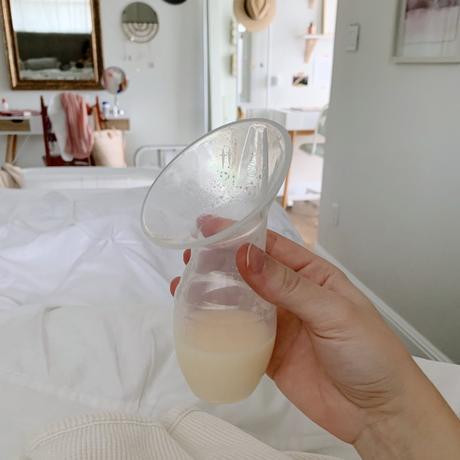 The haakaa breast pump. Friends, I do not know how I ever breastfed without this thing. My friend Katie got it for me and I had never heard of it until then. You attach it to your other side while nursing and it slowly draws out milk during letdown. No more wasted milk soaking up nursing pads! It literally sticks to your boob via suction; you don't have to hold it or anything. I've been getting 1-2 oz per feeding and already have a massive supply in the freezer JUST FROM THIS CONTRAPTION. My regular pump, with all the wires and parts, is sitting in my closet. Amazing.
Nursing nightgowns. I was super engorged when I came home from the hospital and could not even handle wearing nursing bras. My nursing nightgowns are a little bit looser and generally more comfortable. I have this one (in black), this one (in rose), and an older (grey) version of this one. I've also been loving this black 24/7 dress from Milkmaid Goods (a hand-me-down from my friend Christina). It's technically a dress but I've made a habit of wearing it to bed. Sometimes I strip Presley down to a diaper and tuck her inside for skin-to-skin time—or 'nightgown napping' as I call it.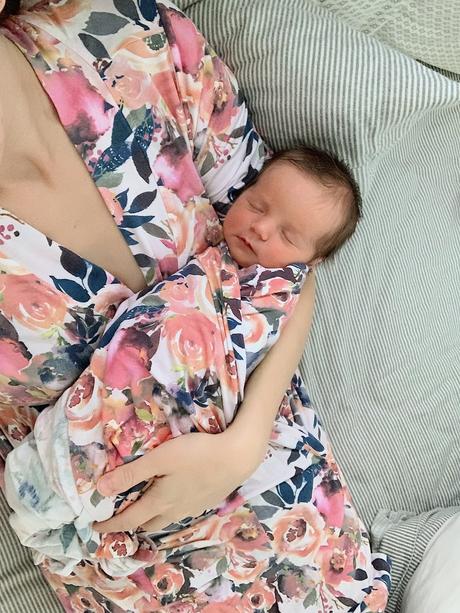 Floral robe. My MIL got me this floral robe with a matching swaddle blanket for Pres and I've been layering it over my nightgowns to feel extra fancy. They also make a knotted gown in the same pattern, so cute!
Bible App reading plans. Like everyone and their mom, I am trying to scroll less on social media. My biggest temptation to do this occurs while breastfeeding, so I've been signing up for different reading plans in the Bible app to give myself something else to read while I nurse. Starting with the She is Free study.
Lactation energy bites. I added a sprinkle of cinnamon and two tablespoons of Trader Joe's Super Seed & Ancient Grain Blend to this recipe and HOLY YUM. I let Brett try one but reminded him they are for lactating which is code word for stay-the-heck-away-from-my-snacks.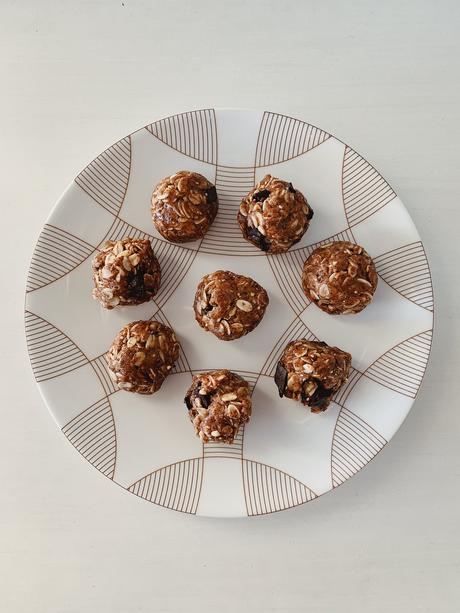 Belly wrap. I had a cheapo belly wrap after Everett (that I loved) and an expensive belly bandit after Carson (that I hated). I got rid of both but opted to get another cheap one this time around. Experts say you should wear this 10-12 hours a day and I wear mine about … one hour a day. I usually throw it on when I'm doing stuff around the house to keep everything in place and maintain good posture. Not sure if it's going to help "shrink my abdomen" as promised, but it feels good when I'm wearing it.
Healthy Human water bottle. This thing is gigantic and keeps ice cold for 24 hours. I brought it to the hospital and have been using it every day to stay hydrated while nursing. Also love that it comes with a stainless steel straw (and a little brush to keep it clean!). I have the 32 oz bottle in Harvest Maple.
---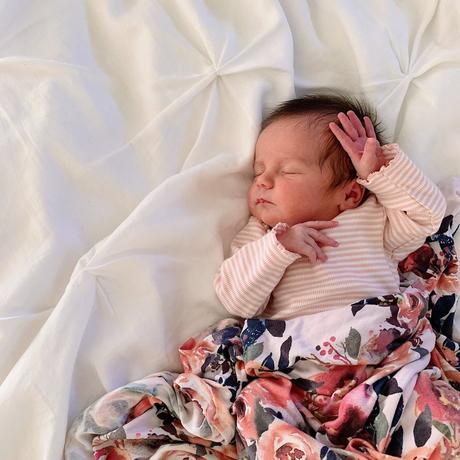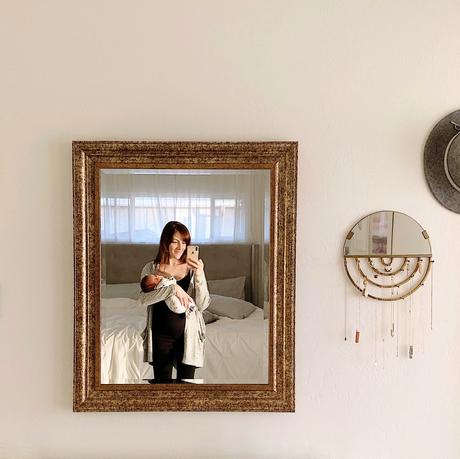 ---
Any other postpartum faves I should know about? Always on the hunt for good lactation recipes + nursing-friendly clothes!
p.s. Pregnancy faves part one // Pregnancy faves part two