Yoo,
I recently went on a shoot with Warehouse and took part in a project they're doing at the moment called 'Postcards in Shoreditch'. It involves them collaborating with different bloggers wearing Warehouse in quirky locations in the amazing and fashionable East of London.
I met up with Rhian from the Warehouse team the day before the shoot at the Oxford Circus Warehouse store and I got the pleasure of being able to pick any four items to make up an outfit to shoot and then keep. There were so many amazingly cute things now the summer has(not) arrived so I was spoilt for choice. Firstly I saw this beautiful collarless leather jacket with quilted panelling and knew I had to wear it! I then saw these high waisted acid wash skinny jeans and this leather top and thought I would go all biker chic and double up the leather. I especially love the leather top as it has a pretty chiffon detailed back giving a contrast between femininity and biker style! Lastly I added a bit of color with this red studded slouchy bag, which I haven't actually stopped wearing since i've had it - it's such a handy size!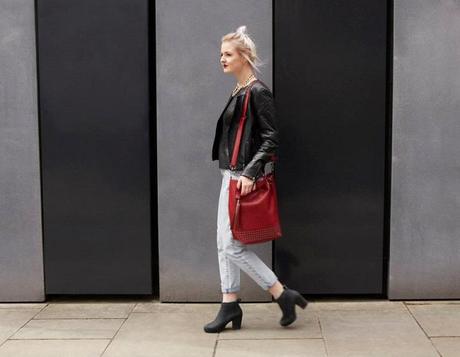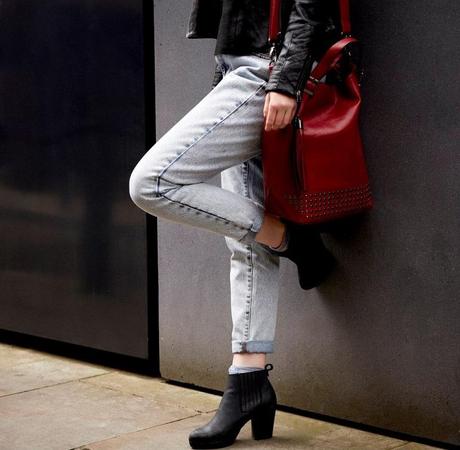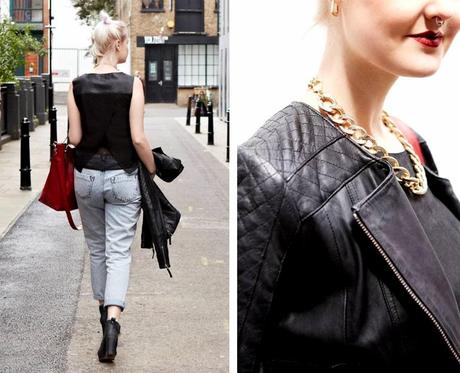 I would just like to say a massive thank you to everyone at Warehouse and especially Rhian for being so welcoming!
Thanks to everyone who has nominated me so far, as you know Cosmo mag are running their blog awards a

t the moment and by one month I qualify in the category of 'Best new fashion blog' YAY. So, if you like my blog it would make me a very very happy girrrrrly if you could please nominate me in this category. You can nominate 
here

 and it literally takes 2 seconds. THANKYOUUU!!
Jessie xx
Twitter / Instagram: @velvet_daisy / Bloglovin'