Y'know, people just don't send enough handwritten mail these days. One of my resolutions this year was to send more mail, so I joined a couple of sites and ramped up my postcrossing.comcontributions. Now, several times a month, I'm rewarded with postcards and letters in my mailbox. Happy Mail Day!
I'm always on the hunt for cute postcards that are a little out of the ordinary. Here are a few that I've spied recently.
Adam Cohn's hi. postcards. ok set of four postcards are simple and brilliant.  Straight to the point and devoid of caps, you're sure to find a sentiment to suit any occasion.
$10.00 per pack.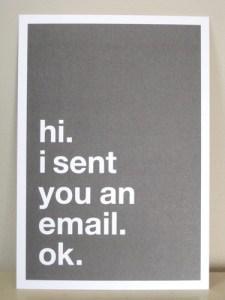 Illustrated Ink's Loteria Postcards.
This set of four Mexican Loteria inspired postcards feature old school tattoo style designs depicting El Corazon (the heart) and La Mano (the hand). The colours and illustrations are beautiful and the back writing space is a nod to classic vintage postcard design, complete with the ornate font.
$6.00 per pack.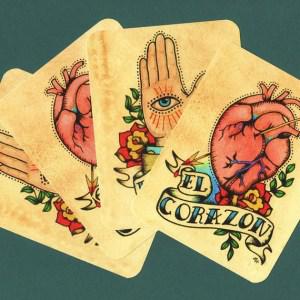 Forest Postcard Pack by Courtney Oquist
I love the bright, striking colours used by California artist Courtney Oquist. Her Forest Series postcards are brilliant little works of art that I would have a hard time parting with (sorry pen pals!)
$4.00 per pack.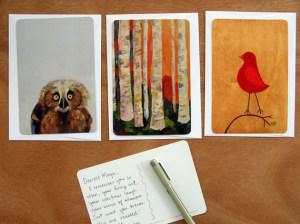 Sydney based Pool Pony Design have a set of 6 sweet little postcards that feature reproductions of some of their larger works. Each postcard is printed on 100% post consumer recycled card so you can feel doubly good about sending mail!
$8.00 per pack.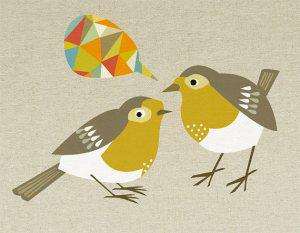 Roadside Fun  by Sweethearville
Sometimes you need something kitschy and these vintage Googie signage postcards fit the bill perfectly.  They are the work of photographer Holly Hall and each image was captured on her travels through Oklahoma and Arkansas.
$10.00 per pack.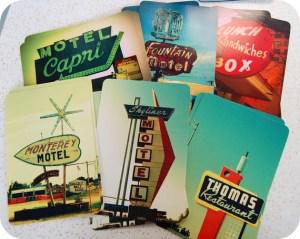 Thanks for joining us on Paper Runway Krissy.  You can visit Krissy on her blog Pretty Paper Things.