My life is a big mess. Quite literally. What? You thought I was being overdramatic. I'm no queen of domesticity, but I normally like things at home to be in working order. Recently, our apartment has been suffering from a break down, pieces of furniture just giving up on life. The most recent case involved both front feet of a kitchen cabinet breaking in two. It's an annoying fact of life, but, where there's frustration, there's comedy: Julien, exhausted from a long day at work (this is harvest season), came home covered in grapeskins, juice, and muck, and joined me in the kitchen while I was making dinner (I'm not a domestic goddess, but I am no dunce around the stove). As we don't have any chairs in the kitchen and him being  flat-out tired, and incessantly social, he sat on the movable counter-top and WHAM! The feet just cracked in two and everything on top: onions, garlic, a sugar canister, and a big, half-asleep winemaker came tumbling down.
Tomato cans as temporary support
So, seeing that we need the space, what's one to do except fix it….. With tomato cans.
My apartment was starting to remind me of childhood. This isn't nostalgia of better times, I learned the expression "jerry-rigged" very early in life. Not only broken furniture, but good old-fashioned junk was starting to fill every negative space : coffee cups, clothes, books, and other general pieces of everyday life imposed disgracefully upon the chaste surfaces. The time had come to take control. For the moment, I'm not working on Wednesdays, so the wannabe good wife that I am, this afternoon I thought I'd take advantage of the free time and do a thorough clean-up of this melt-down. Perhaps as compensation for the recent neglect we've both bestowed on our charming, little flat, I was obsessive compulsive in my ambitions. I spent no less than 1 hour ironing clothes that have sat on the drying rack all week, catching myself in disbelief as I ironed my pajamas. Ironing PJs?? Am I becoming French? For 3 hours I moved on from pièce to pièce, starting with the kitchen and ending with the living room, putting away, scrubbing, sweeping; doing my best to erase the guilt I've racked up from weeks of disregard and procrastination.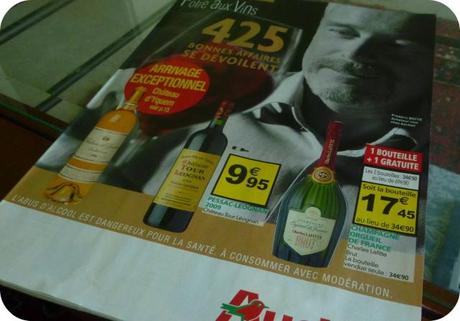 Coffee table paper bombs
One of my final missions was to sort out the newspaper ads. I personally can't stand having them in the house, to me it's just more clutter. But Julien, being the patriotic, paper-loving French that he is, brings them up from the foyer each week and leaves them on the coffee table for reasons that I'm not sure of…while this might need to change soon, we hardly ever go shopping for appliances or furniture. As I was looking through the glossy pages, I noticed several supermarkets were conspicuously advertising their Foire aux Vins this week (in other words,  huge wine sales). Based on some logic reasoning that I borrowed from Julien, I figured out that these sales happen to coincide with the most exciting event in the region this month: The Wine Harvest! And although it's a nuisance that our place is an incorrigible wreck and Julien won't fix our tomato can rigged cabinet until after harvest, just the mention of the words are enthusing to no end.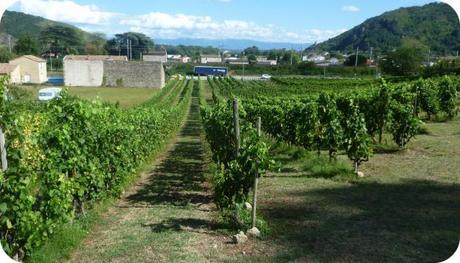 Our vines-St. Joseph appellation
Fast forward to this time next year, and Julien and I will be working our first harvest as proprietors. Our hands working our vines making our wines. It's a dream come true that I still haven't woken up from. He's owned a vineyard for some time now and while he was a business school student, decided to lease it out to a local winemaker. That was years ago, years before he knew that he would travel the world making wine for others and eventually want to make his own wine. Years before he knew he would meet a "sweet, but severe" Texan who just so happened to share his adventurous spirit, craze for creativity, and love of wine. And as time, fate, and Julien's impressive negotiating skills would have it, we've recently reclaimed the vineyards. Although we have one more year to go before the frenzy that is vendange, we've taken habit to dreamily discussing our not to distant plans of making and marketing our wines. This not only reinforces a shared passion for wine, but for each other. And for that I'll take a life's worth of messy apartments.
Advertisement