TAKEAWAY: Another Pinstripe Project launch has taken place, this time the Portland Business Journal.  Unification and continuity for the American City Business Journal brand and storytelling continue.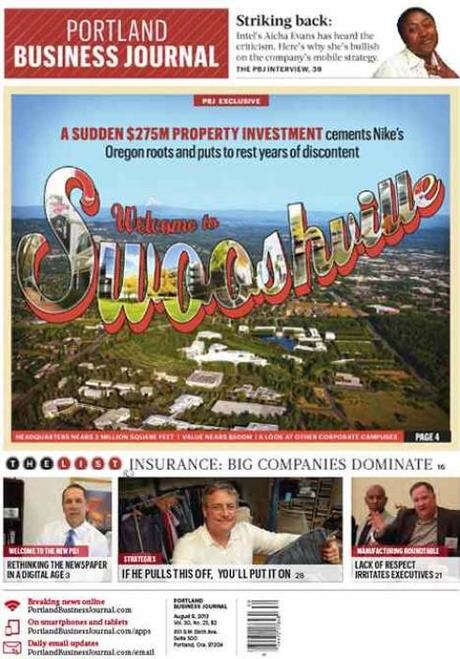 New front page of the Portland Business Journal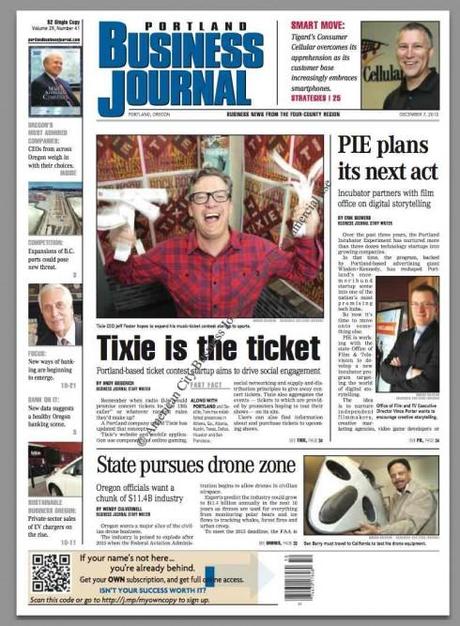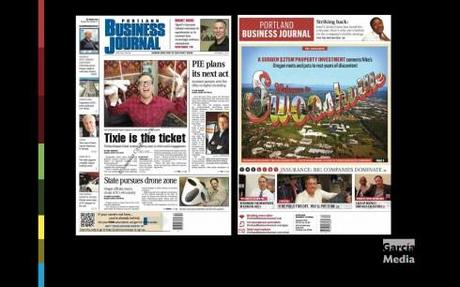 Old front page of the Portland Business Journal
The Portland Business Journal has added pinstripes on its logo, making it the 6th of the 40 weeklies part of American City Business Journal to launch a common style of storytelling, story hierarchy and visual presentation.
We at Garcia Media have worked closely with the ACBJ team, including Emory Thomas, chief content officer for American City Business Journals and creative director Jon Wile.  Over the course of a year, and a half-dozen workshops, we have created a formula that is flexible enough to allow for the specific and unique features of each of the titles, while establishing a foundation that ensures a similar style for telling stories and for adapting to a digital first philosophy in the presentation of content.
However, as one would expect, each of the weeklies approaches Project Pinstripe differently.  Each newsroom and its inhabitants must be open to big change. This week, we look at how the transition to becoming a digital-first media operation has played out for the Portland Business Journal.
We asked Jon Wile about the main changes in this rethink of the Portland Business Journal?
Portland commonly ranked in the low- to mid-20s in our company in all digital metrics at the beginning of the year. Now that they've embraced the philosophy and become a truly digital-first newsroom, they've jumped into the top 10 in almost everyone of those same metrics.
The transition wasn't easy and it required the entire newsroom to change its mindset, processes and legacy habits. More planning and a succinct morning meeting provide a roadmap for the daily digital edition.
Digital Managing Editor Suzanne Stevens wrote in a story announcing the changes this week:
We believe the new look captures the energy and vibrancy of Portland's business community and the editorial pivot better reflects the way you consume news in a digital age.
Storytelling across platforms: how Portland Business Journal did it
This week's print centerpiece by PBJ reporter Matt Kish reflects that change, as the digital treatment of this story demonstrates how Portland's newsroom has evolved in its multi-platform approach to storytelling. Kish covers Nike, one of Oregon's largest companies. He had reported earlier this year that Nike was expanding its campus.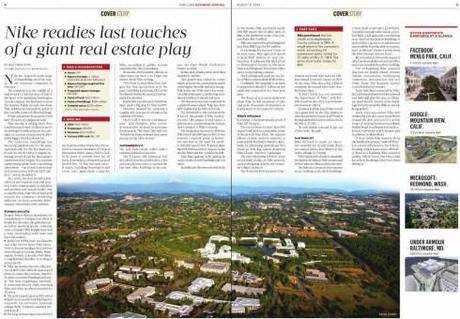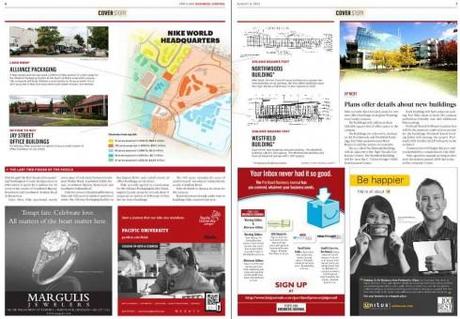 Despite these expansions, there were still rumors that the athletic giant was entertaining offers to relocate, which would deal a crushing blow to Oregon's economy. Kish decided to spend some time digging through property records and found that Nike was quietly expanding its campus and cementing its roots in Oregon.
Here's how the story played out last week in online and in print: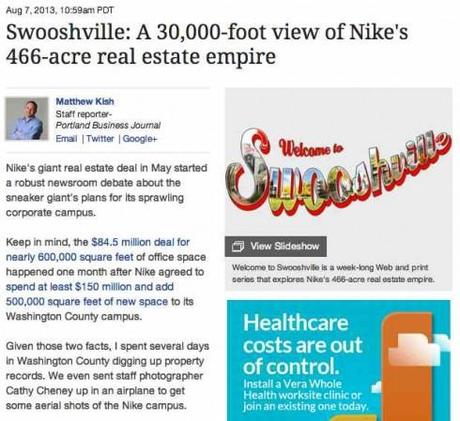 Wednesday online: Kish unveils the news that Nike's campus is expanding, plus he outlines the upcoming digital and print pieces titled "Welcome to Swooshville."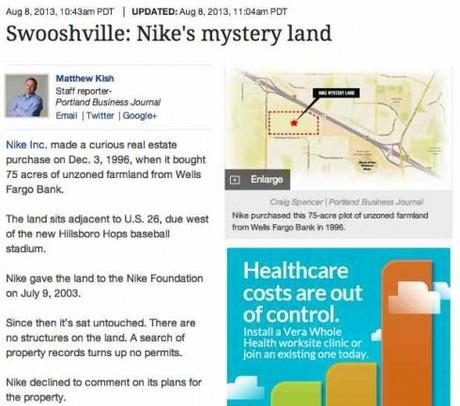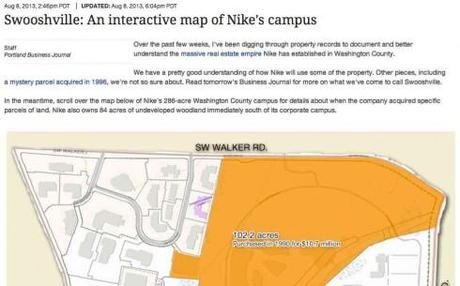 Thursday online: PBJ rolls out an interactive map showing when and how much Nike paid for all the pieces of its campus, while Kish writes about a mysterious piece of property and what Nike could do with it.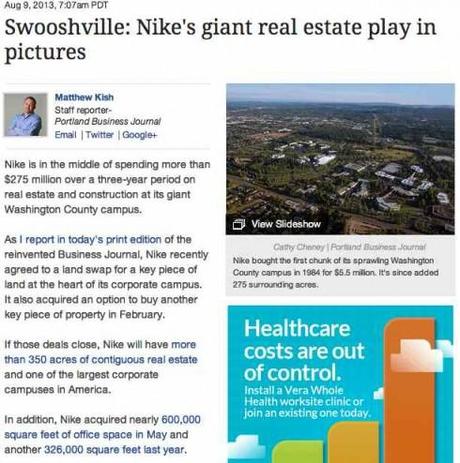 Friday online: A slideshow of what Nike's campus looks like, with shots from staff photographer Cathy Cheney's helicopter ride over the campus.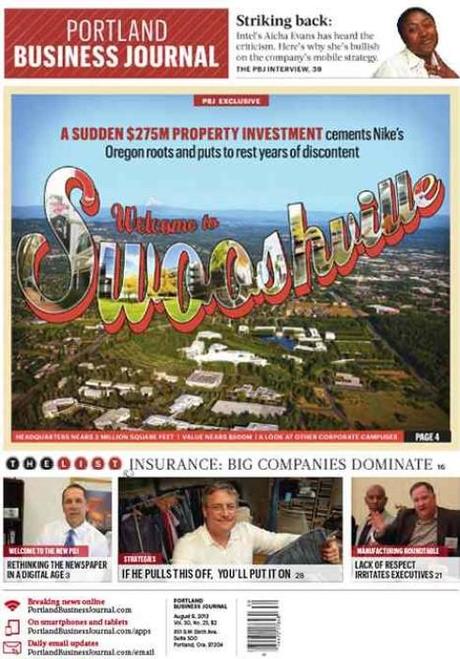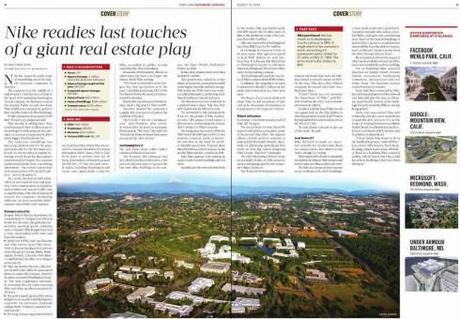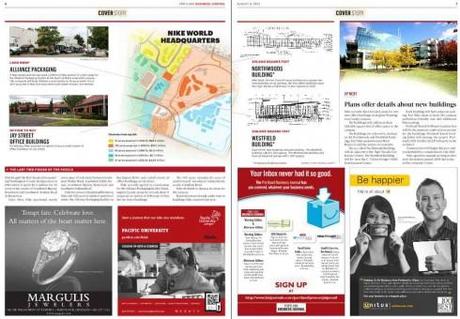 Friday print: The team wraps up all the pieces in the ultimate lean-back experience with a centerpiece story telling readers about the campus expansion, why it matters to Oregon and what could be next for Nike. Many small plates offer comparisons and deeper looks. The beautiful designs are the work of Craig Spencer, who was promoted last week to Creative Director of the PBJ.
Compelling storytelling, sequencing, and each platform doing its turn to advance the story, avoiding repetition and extending not just the story but the Portland Business Journal across each platform.
That is the aim of our ACBJ Pinstripe Project, one weekly at a time.
Now ready for the 7th and 8th titles to go Pinstripe: Charlotte and Minneapolis.
Previously about American City Business Journal:
Kansas City Business Journal launches new product, meets challenges of change
http://garciamedia.com/blog/articles/pkansas_city_business_journal_launches_new_product_meets_challenges_of_chan
A total rethink for Cincinnati Business Courier
http://garciamedia.com/blog/articles/pits_a_total_rethink_for_cincinnati_business_courier_p
Philadelphia Business Journal: A total reinvention
http://garciamedia.com/blog/articles/pphiladelphia_business_journal_a_total_reinvention_p
It's a new Washington Business Journal
http://garciamedia.com/blog/articles/pits_a_new_washington_business_journal_p
The design of the Silicon Valley Business Journal, from prototype to reality
http://garciamedia.com/blog/articles/the_design_of_the_silicon_valley_business_journal_from_prototype_to_reality
Silicon Valley Business Journal: Creating the ultimate multi-platform operation
http://garciamedia.com/blog/articles/silicon_valley_business_journal—creating_the_ultimate_multi_platform_opera
Lessons learned from Silicon Valley, and a look at some details of SVBJ
http://garciamedia.com/blog/articles/lessons_learned_from_silicon_valley_and_a_look_at_some_details_of_svbj
TheMarioBlog post #1312