Portland, OR folks: Come see me and my work at this pop-up art show next Saturday 9/17! I will not tell you anything about the paintings I'll be showing, as it's supposed to be a surprise. But I will tell you they will be smaller, more affordable pieces.
I can tell you right now the variety of work on display will be truly impressive–I'm in excellent company with the other artists selected by Portland Open Studios.
Even if you don't find any art pieces calling your name at this event, tickets for the studio tour in October will be on sale there. Don't miss it!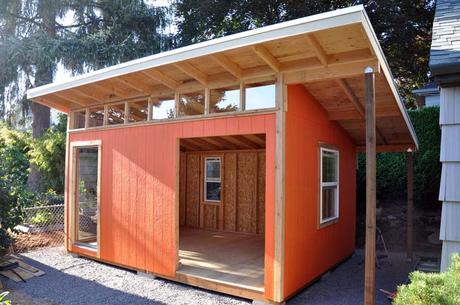 New Cedar Lee art studio, still under construction
Press release follows:
PORTLAND OPEN STUDIOS HOSTS ONE-DAY POP UP PREVIEW SHOW ON SEPT. 17 AT BASIC SPACE GALLERY
Buy Tour Guides, review artists in the October lineup, buy small works
PORTLAND, OR –  On the second and third weekends of October each year, Portland residents must traverse the entire city to visit 106  artists' studios selected to participate in the annual Portland Open Studio event.
But on Sept. 17, you'll be able to see nearly half those artists' work in one place – at the one-day Portland Open Studios preview show at Basic Space Gallery in the Everett Station Lofts, located at 625 NW Everett Street, #111.
"There hasn't been a group preview show in several years, so we are excited to bring it back this year," says Leah Kohlenberg, vice president of Portland Open Studios and co-organizer of the event.  "We think we've got the best artists in the city on this tour, and now we can showcase them in one room."
Visit the show, open from noon-8 pm, to get a preview of some of the artists you might want to visit in the fall, to get some amazing deals on art, listen to music, nosh and mingle with some Open Studio artists.  For a unique experience, artworks displayed will be identified not by artist name, but by their studio number in the 18-year open studios event.  The only way to discover who has created the works is to either buy the piece of artwork, or buy the $15 tour guide "ticket" to Portland Open Studios, all available at the gallery.
"This is what art is supposed to be about," says Christopher Roberts, who co-owns Basic Space with Kenny Saylor, and who served as a juror for this year's Portland Open Studio event. "This show will  give you the experience of being attracted by a piece of art for the art itself, and what the artist is attempting to convey to you, rather than being  guided by a label. The event will allow you to see the many varied ways artists choose to create their art to convey their artistic inspiration,  art forms you may have never seen."
Basic Space Gallery is an up and coming gallery in Portland's diverse gallery scene, located on the edge of Chinatown and the Pearl District of NW Portland in the Everett Street Lofts Building.  The gallery displays emerging and professional artists whose work conveys the artist's deeper understanding of self and in sharing in that story without words.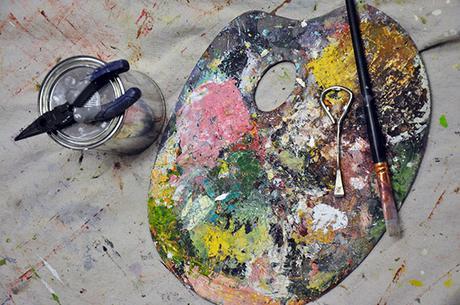 Cedar Lee art studio
What is Portland Open Studios?
Portland Open Studios is an annual event during which 106 professional artists open their studios to the public for the second and third weekends in October.  This is the tour's 18th year, and the dates for Open Studios 2016 will be Oct. 8-9, and Oct. 15-16, from 10 am-5 pm.  The tour offers a unique and inspiring form of experiential education: interacting with local artists at work within the context of their workplace.   Each year, the artists are selected through a professional juried process to participate in the Open Studio tour.
The tickets to find these artists during the tour itself is a $15 full-color tour guide, organized into 12 neighborhoods, with contact information for each artist, and directions to their studios.  The Tour Guide and mobile apps are available at New Seasons Markets, Muse, I've Been Framed, Blick, and Artist and Craftsmen,  or via our website http://www.pdxos.com/ . There will also be a free map-only mobile app available on the website within the next few weeks.
WEBSITE:
FACE BOOK:
Event invite
https://www.facebook.com/events/1147501808655514/
Portland Open Studios
https://www.facebook.com/pdxopenstudios/?fref=ts
Basic Space Gallery
https://www.facebook.com/basicspacegallery/?fref=ts
INFORMATION:
See you on the 17th!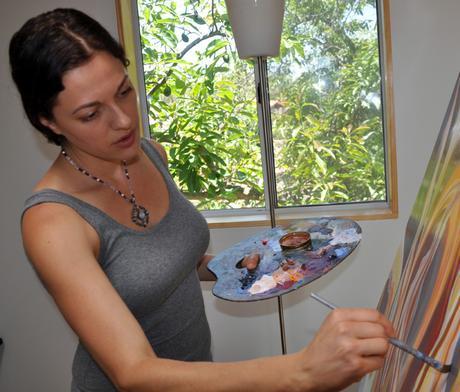 Portland artist Cedar Lee painting