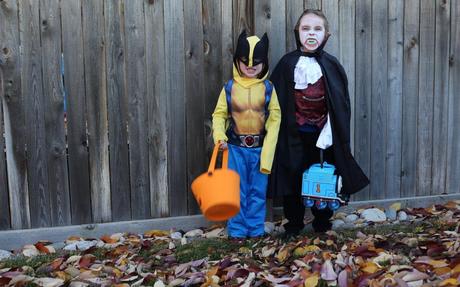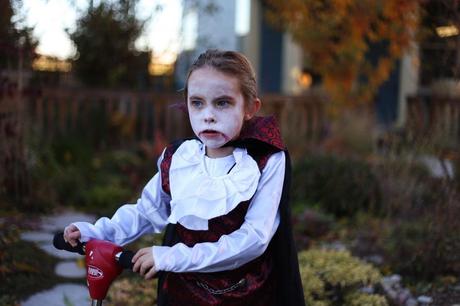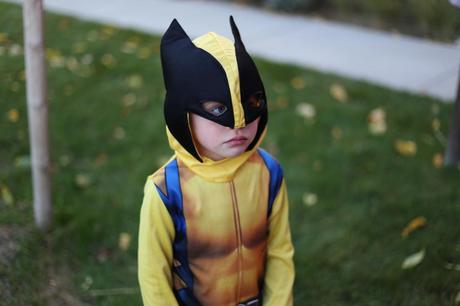 They have this way of reminding me that life is beautifully alive and flawed and well.  Two times now since I've started typing this, Sully has tried to move quiet as a mouse through the living room, carrying his felt pumpkin bucket full of last night's treats, as if I might not notice that he's sneaking away to eat as much candy as he possibly can until he is caught.  I will not tell him that I adore his determination and desire for life's guilty pleasures.  But I am thrilled, even though I call him out and, finally, confiscate what's left of Halloween.  For now.  
They permeate through me, breaking down my resistance and silly ways, openly and without regret.  Sully begged and hounded me for weeks.  Please, Mama, can we spook up our house... bones and ghosts and bats and skeletons and a bloody hand like the one at Colton's... Please?  I saw the cheap gaudy plastic decorations as just one more thing to be stored in our basement, a waste of money.  I'd ask him, don't these houses that are all done up kind of freak you out?  Scare you?  And he'd insistently assure me that the spookier the better.  Spook it up!  
So we got a creepy ghoul for our front door that would get turned around in the wind so that it was looking into our house, bony, fleshless hands tapping on the glass.  Unsettling to me; ghoulishly fantastic to them.  And then spider webs were added to the front porch to freak up the scene even more.  Paper bats were taped to the windows in a flutter.  Fake plastic fingers with painted long nails were pointed at me when I least suspected.  Plastic black spiders dropped in my boots that stopped my heart momentarily when I'd slip my foot in, unexpecting.  Laughs spilling out of tiny mouths perched around the corner.  All for them.
And isn't that how it goes?