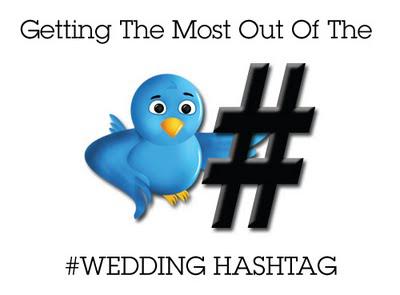 This past weekend, I was searching for a blog article on the most popular wedding hashtags utilized on Twitter and couldn't find any. I decided to do some research and publish my own blog about this topic.
A hashtag is a term referencing the # sign on your keyboard + a keyword. This "hashtag" is placed at the end, or embedded inside of a twitter message (also referred to as a tweet). The hashtag becomes a link, and users inside of your niche have the ability to see that message. Note that the hashtags are NOT case-sensitive... In other words, #Weddings is the same as #weddings.
The wedding industry is so expansive (from the paper to the room decor to the desserts), that there are several wedding pros that use many different hashtags within their tweets. I've found that some hashtags are more effective than others, and there should be some thought put into which ones are used.
At the end of the day, you want the tweet indicating your blog link, special offer, advertisement, etc. to be seen by the largest audience possible. This audience does not end with the number of followers that you have if you use the most commonly searched hashtags.
Below is a summary of my findings that I'm positive is not comprehensive, but its a nice beginner's guide to embedding hashtags within your tweets. Hopefully this blog post will pop up in a search engine for the next wedding pro wondering about this topic!
Well Searched Wedding Hashtags (recommended to use for the best tweet exposure)
#Bridal
#Bride
#Brides
#BrideTips
#BrideToBe#DIYWedding#Engaged
#Engagement#Groom#GayWedding#Honeymoon#Wedding#WeddingCountdown
#WeddingPlanning#Weddings
Well Searched Hashtags Relating to Specialized Areas:
#CocktailHour#Etsy#Invites#Stationery#WeddingCake#WeddingFlowers#WeddingPhotography#Zazzle
Hashtags That Are Too General or Not Specific Enough:
#Planning#Photography#Flowers#Decor#Photobooth
Hashtags That Are More Appropriate for Bride Only Discussions:
#Imgettingmarried#WeddingVendors#Mywedding
Hashtags That See Some Activity, But Are Not As Popular As You Would Think:
#DIYBride#destinationwedding#Nuptials#SavetheDate#vintagewedding#weddingblog#weddingceremony#weddingdecor#weddingfavors#weddinggowns#weddinginspiration#weddinginvitation#weddinginvitations#weddingpros#weddingreception#weddingshoes#weddingtips#weddingvenues
Additional Hashtag Resources
http://hashtags.org/ - Cool site. You can enter a hashtag and a list is generated on when it was used and by what Twitter user. There is also a trending graph which indicates the trending Twitter popularity of the hashtag over time.
Six Tips and Tools to Get the Most Out of Twitter Hashtags - GREAT article that discusses the etiquette around utilizing hashtags.
I hope that this has been helpful and I welcome any suggestions or additions to this listing! --ct
Technorati tags: wedding, twitter, wedding technology, chicago wedding