BitTorrent is one of the popular torrent file sharing and downloading software. Recently BitTorrent has released "BitTorrent Labs", alpha site to alpha projects. Where all new concepts and ideas in early stage will be available for experimenting, building , developing for anyone.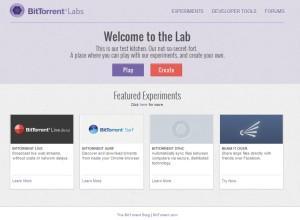 Bittorrent Labs Alpha Testing
This page features different experiments. This is a alpha site for alpha testing of the projects.
Even it features the "Torque", a javascript interface to torrent clients, designed for web developers.
Try BitTorrent Labs