Popular scams or tourist traps in China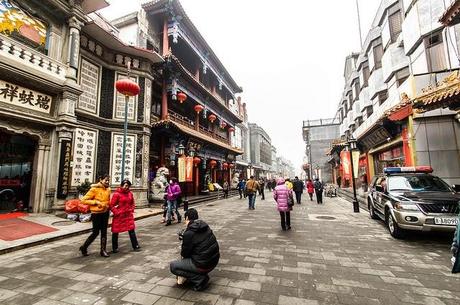 This post doesn't have the intention of scaring you or trying to convert you into paranoid freak. Its aim is just to provide you with some commonsense tips when traveling in China (especially solo).
Tea house – Beijing
Chinese consider themselves to be hospitable and polite with foreigners. From what I have seen and heard that is a valid statement. However, bearing that in mind, there are people who want to benefit from the thriving tourism fast and unscrupulously. So one thing which you might consider when visiting a major city in China, especially Beijing (center) – stay away from attractive ladies offering you a drink in a nearby tea house or bar. 
The scheme goes like this. While you are wondering whether the undecipherable text of the sign of the street is the one you are looking for, a lady (or a group of ladies) approach you with the innocent offer to help. At this point everything looks OK, nothing to be suspicious of. Then suddenly throw into the conversation: why don't we....? You should be on the alert. I am not saying you are not cute and good looking but that doesn't happen very often, admit it. 
You might guess what happens after, when you go into the
tea house
(or restaurant, or whatever) you realize the waitresses are really keen on giving you some small snacks, drinks and additional stuff. You wonder if they are for free – don't be naive. The prices are ridiculously pumped to 1000 yuan or more. So, I don't want you to ruin your experience from this inspiring country. Just act sensibly and avoid this scam at an early stage.
One of my friends was drawn into such a scheme but he managed to get out just on time. Check out this story, as well. 
The friendly local – seen at the foot at Huangshan. 
This is a slight variation, read it so that you are familiar with all aspects of traveling in China, no matter solo or in a group. 
A guy walks and offers his valuable advice for...He may even buy you some fruits (that was the case with me) to show you his innocent intention. After a couple of conversations on neutral topics he mentions he is in need of
small exchange
(from 20 to god knows how much). You don't have to give anything, after all you are not Mother Therese, just waive off the intruder. Make sure you are in a public place to avoid any risky situations. 
Travelling solo in China is a bit of a challenge but nothing to worry about. Pack yourself with your sense of humor and enthusiasm and let the destiny guide you on your way. Just don't forget the small measures to keep your trip safe and secure!
Photo Credit - Flickr 
Wulf Willis