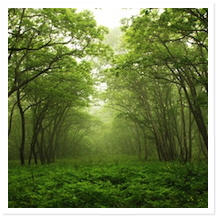 Only recently have we, as humans, centered our focus on our environment. Hybrid vehicles, environmentally conscious packaging, and energy efficient light bulbs are just a couple of the many innovations developed with our planet in mind. There's no doubt we've made tremendous progress from 25 years ago, but we're not done yet. The key to creating an energy efficient world is to continue zooming in on all of our habits and traditions to identify what's helping our environment, and what's not.
For example; did you know that funerals have a largely negative impact on our environment? From the embalming process to the steel coffins and granite headstones, it seems surprising how many people are willing to give one last swing at the globe they've lived on before laying to rest.
Today we're going to share with you the most popular eco-friendly funeral products so you can make an educated decision on how you can do your part in keeping things green.
Eco-Friendly Green Caskets
Green caskets are built from low-impact, sustainably harvested materials. Popular woods used to create beautiful green caskets are poplar, and bamboo. Poplar wood is particularly common because of its ability to sprout very quickly, earning it the nickname 'weed wood'. Bamboo is no slouch either; taking only 59 days to grow back to full height after being cut down from the root. No re-planting necessary.
There are no chemical adhesives or metal pieces added to eco-friendly green caskets in order to keep them completely biodegradable. For that same reason you will note green caskets are free from varathanes, formaldehyde, pesticides, and preservatives.
Locally Sourced Flowers
Enter another hidden environmental danger often overlooked: packaging and transportation. Sometimes you can even find companies who claim to be selling organic, environmentally friendly products just to ship them across the world in non-recyclable packaging on large fuel burning trucks. We recommend going to your local farmer's market for natural flowers grown without any pesticides or other chemicals. If you don't have a local farmer's market in your area, be sure to call nearby flower shops to ask how their flowers are being treated before the picking process. Another place to find eco-friendly funeral products is at your own home. Ask everyone attending the funeral to pick a few flowers from their garden and bring them to the funeral, instead of purchasing flowers.
Green Funeral Stationary
This is another non-friendly funeral product easy to overlook. When creating a funeral invitation or thank you card, please be sure to print on recycled paper with a printer featuring a refillable ink cartridge. This saves a great load of stress from hitting the environment in comparison to buying plastic cards en masse from your local Hallmark. If you don't own a green printer, consider visiting your local library.
An even easier alternative is to email all communications. Say what you will about modern technology, but the amount of paper it has saved is tremendous.
Eco-Friendly Funeral Products Make a Difference
It really is rewarding to purchase eco-friendly funeral products and prevent the environment we all share. To look even further into making a difference, consider having a green funeral. Every little conscious adjustment we make results in a positive change and further environmental awareness.