To me, popover is an American version of Yorkshire pudding. Being not American or British, I have to say that popovers or Yorkshire puddings are typically not the food that we always eat.
Then, why am baking these? Little for my curiosity but mainly for our bake-along with Joyce from Kitchen Flavours and Lena from Frozen wings. Thanks to Joyce and bake-along, I can be out of my comfort zone, exploring many interesting recipes.
In order to bake the most 
traditional looking tall kind of popovers
, I was thinking of buying popover pan but didn't buy it eventually because I know that I won't bake popovers very often. Instead, I have baked mine using a standard muffin pan yielding these small and rather short popovers...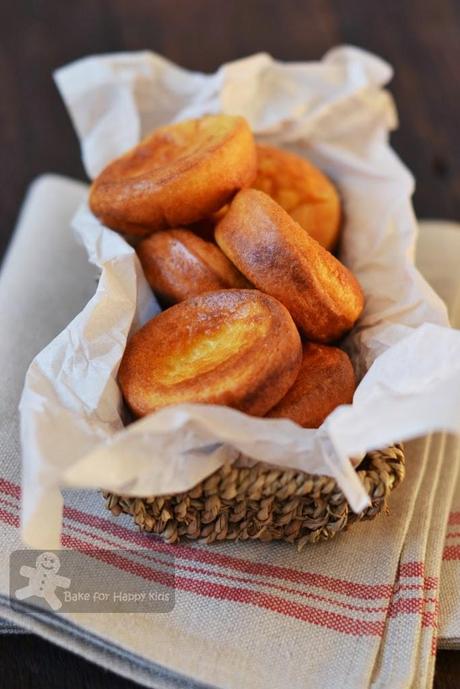 Popovers baked using muffin pan
Prior baking these, I like to gather some information that I can find to bake the best popovers with good successful rate. Based on my reading at Martha Stewart, Food Network, Betty Crocker and America's Test Kitchen Family Baking Book, I was surprised to find that these popovers recipes are the same! And, typically, all these recipe contain 2 eggs, 1 cup of milk, 1 cup of flour, 15g of melted butter and salt to season. Is this an coincident or what?
Accordingly to the book, America's Test Kitchen Family Baking Book, high oven temperature is the most critical to bake high rising puffy popovers. Plus, these are the mentioned steps and tips that maximize the success of baking popover.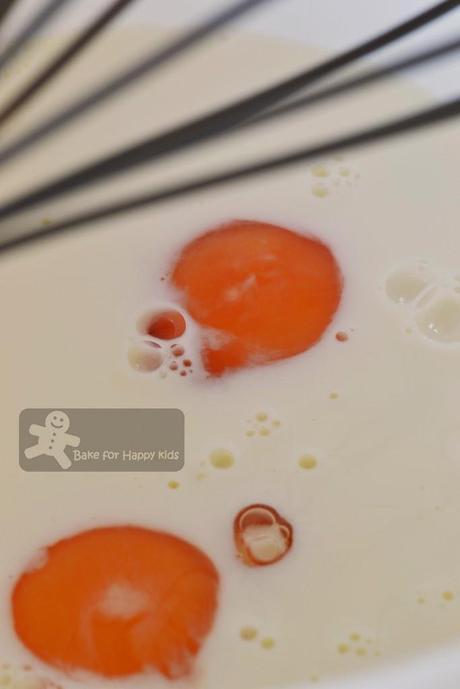 In a mixing bowl, place eggs and milk together.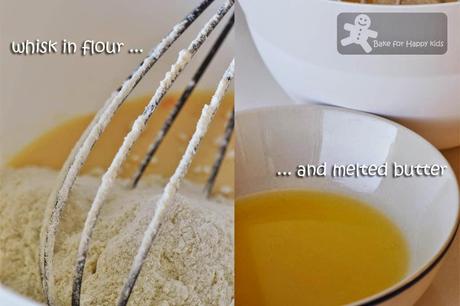 Then add these...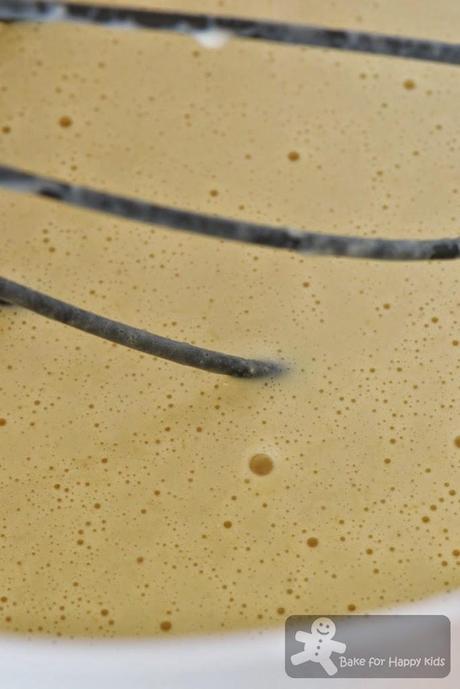 Whisk until batter is bubbly and smooth.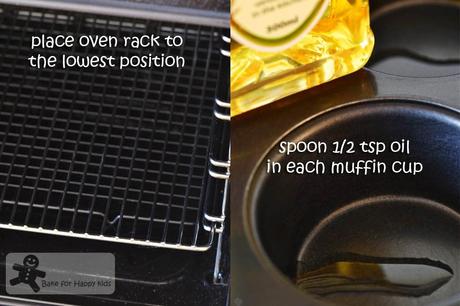 While the batter is resting at room temperature for 30 mins, I did these.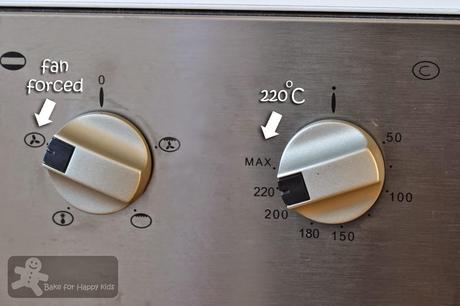 Yes! High temperature setting is important and required.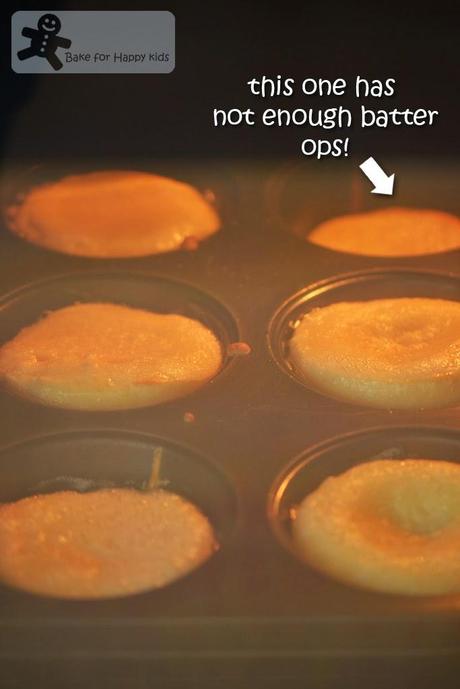 Next... Nothing much to do but fingers crossed, hoping that popovers will popped!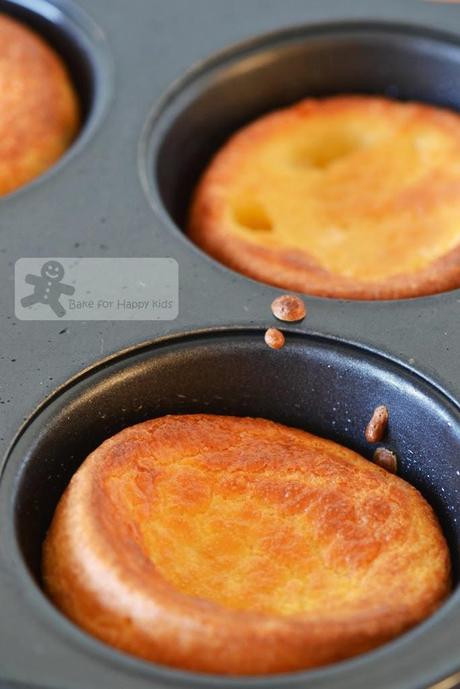 Yay! They popped!!!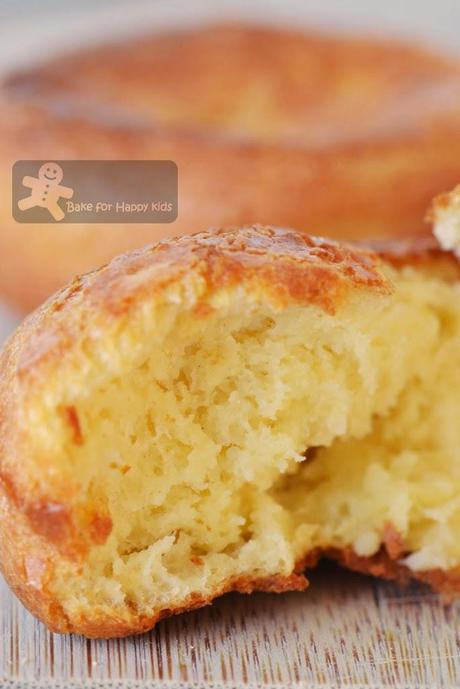 A "short" kind of success! Still nice crispy outside and moist and spongy inside :)
Here's the recipe from the book, The America's Test Kitchen Family Baking Book.
(with my modification and notes in blue)

Makes 6 large

or 10 small muffin-sized popovers


2 large egg
1 cup whole milk
1 cup all-purpose flour
1 tbsp unsalted butter, melted and cooled
3/4 tsp salt
1 tbsp vegetable oil

(I have used rice bran oil)


Blend the eggs and milk together in a blender until smooth. Add the flour, melted butter, and salt and continue to blend on high speed until the batter is bubbly and smooth, about 1 min. Cover and let the batter rest at room temperature for 30 mins.

- Instead of using a blender, I have used a hand whisk to whisk my batter.


While the batter is resting, measure 1/2 tsp vegetable oil into each cup of the popover pan

or muffin pan

. Adjust an oven rack to the lowest position, place the popover

/ muffin

pan in the oven, and heat the oven to 430°F

or 220°C fan forced

.

After the batter has rested, pour it into a 4-cup liquid measuring cup or another container with a spout. You will have about 2 cups batter.
Working quickly, remove the pan from the oven and divide the batter evenly among the 6 or 10 cups in the pan. Return the pan to the oven and bake for 20 mins (do not open the oven door).
Lower the heat to 350°F 

or 160°C fan forced 

and continue to bake until golden brown, 15 to 18 mins longer 

- I have baked my small popover for another 5 mins.

Gently flip the popovers out onto a wire rack and let cool slightly before serving.
Tip: If you are using a 12-cup muffin pan - 1) You will need an extra 2 tsp of vegetable oil to grease the 10 muffin cups. 2) Fill only the 10 outer cups of the pan with batter - I have forgotten this tip and used the cups in the center and they still worked. I didn't divide the batter well enough and had made 1 extra thin popover with no much batter.
To make ahead: The popover batter can be refrigerated in a covered container for up to 24 hrs. Let the batter come to room temperature and stir thoroughly before baking as directed.Happy BakingHere are our friends that have joined us for this bake-along. Please visit their blogs for more of their popover baking.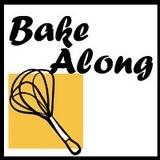 Please submit your details if you wish to link your post with this bake-along. This linking tool is open from 15 to 24 Sep 2014.

For our next bake-along, we are baking Maple Pecan Pie (Recipe from the book, William-Sonoma Baking Book, pg 232 or here) which is to be posted on 14 Oct 2014. Please bake-along with us! All you need to do is to bake this recipe and blog hop with us for the next 10 days.
To blog hop with us, simply copy and paste this linky HTML code into your blog post where you want the blog hop list to appear. Make sure you are in HTML view/mode when you paste in the code. 
get the InLinkz code
Before using this linky tool, please make sure that: (1) Your post must be a current post. (2) Please mention Bake-Along in your post and link back to any of our hosts' Bake-Along post, (Joyce, Lena or Zoe). (3) Appreciate if you can display the Bake-Along badge in your post when linking up with us. Cheers!