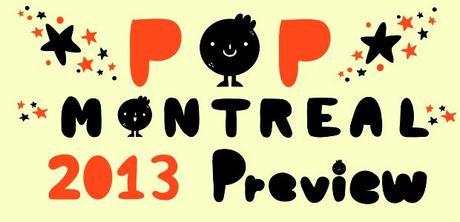 I love the New York City music scene more than almost anything in the world. In fact, after a year long sojourn in Canada (eh!), it was one of the main reasons that I decided to move back here. On the other hand, during that year I lived in Montreal, where I was lucky enough to experience music of every genre, oozing from every European-style rue and boulevard. While Montreal is known around the world for its stellar jazz and electronic scenes, you can bet that indie rock is booming as well, and it's a horse of a different color. While it's true that the Brooklyn has exploded in the past few years, Montreal has been way ahead of us, with tons of venues and also "venues"/living rooms/coffee shops.
Pop Montreal is Montreal's SXSW — for five glorious days, art of all different mediums takes over the city for a nonstop party. There are film screenings, art shows and symposiums, but we at The Wild Honey Pie are obviously most excited about the 400+ bands playing in 50 different venues around the city. The lineup features some familiar favorites of ours, such as Portugal. The Man, Local Natives, Braids, San Fermin, the Dodos, How Sad, and Clap Your Hands Say Yeah, but here's a sneak peek at some other massive talent to keep on your radar.

Clap Your Hands Say Yeah, Portugal. The Man, Local Natives, The-Dream, The Dodos, Phantogram, Wild Nothing, Kid Koala and Oh Land.

Grading this lineup is difficult because it's so incredibly diverse, and we're not necessarily focusing on the hip hop artists or world musicians included, but for our little niche, I would give it a B+: while I'm ecstatic about every single artist featured here, there weren't too many others that I was distraught to leave off. In a way, it's a sort of blessing — it saves a lot of the FOMO stress about having to choose between too many artists. This is also subject to change, since almost all of these bands are up and coming, and they may come across totally different live than in their recordings. // B+

The Dodos
Thursday, 9pm @ Sala Rossa


The Dodos – Confidence
SoundCloud
I've always loved The Dodos for their non-traditional rhythmic patterns, usually each instrumental voice playing with different syncopations against each other. Somehow, despite all the percussive activity, the music as a whole remains calm and fluid, with flowing vocals and romantic guitar chords. The music is relaxed on the surface, but with a closer look, it's impossible not to notice the intricacy of the composition.
Empress Of
Wednesday, 8:30pm @ Sala Rossa


Empress Of – Tristeza
SoundCloud
Lorely Rodriguez, aka Empress Of, has one of those totally ethereal voices that floats above everything surrounding it, and in the case of her music, the contrast between voice and the charged electronic waves of sound is particularly striking. Always resting high up in that distant soprano range, she harmonizes with herself, sometimes in Spanish, and combined with ambient synth effects, it's about as other-worldly as you can get, even within the dream pop genre.
Oh Land
Sunday, 9pm @ Théâtre Corona Virgin Mobile


Oh Land – My Boxer SoundCloud
Sometimes, it really feels like it's literally impossible for Scandinavia as a whole to produce bad pop musicians. Oh Land is Nanna Øland Fabricius from Copenhagen, who delivers us some classic, irresistible Scandi-pop, full of tension and resolution, flawless harmonies, and those drum machine beats that get us swaying and grooving by the song's second measure.
Clap Your Hands Say Yeah


Clap Your Hands and Say Yeah- Upon This Tidal Wave of Young Blood SoundCloud
Sunday, 9pm @ Cabaret du Mile End
One of the things I like about CYHSY is that it's very difficult to pin them down a specific label for their sound. For example, most people know them for their 2005 single "The Skin Of My Yellow Country Teeth", but if you've listened to literally any other song or album from the band, you may not believe it's the same group of musicians. Alec Ounsworth maintains his uninhibited vocal style, slurring and swooping all over the musical staff, but the energy of the band changes with each song, sometimes urgent and noisy, sometimes restrained and more melodic. They're key players in the context of modern rock 'n' roll, and though they haven't released an album since 2011, they've been busy (last year touring with Edward Sharpe and the Magnetic Zeros), so I have no doubts that they'll be putting on a sensational show.
Dent May


Dent May – Let Them Talk
SoundCloud
Saturday, 10pm @ Cagibi
Formerly Dent May & His Magnificent Ukulele, this Mississippi freak folk/pop star recently dropped the uke and added catchy dance beats, layered vocals and even more Brian Wilson-style elongated harmonies and falsetto. For other long-time Dent May fans who may be nervous about the change in direction, don't worry: the sound is different, a little dreamier, but the unique charm of Dent May's voice hasn't changed.
Caged Animals


Caged Animals – We're Playing With Fire
SoundCloud
Friday, 9:30 @ Quai des Brumes
Caged Animals will be making the trip from New York to Montreal just like us, representing some of that Brooklyn goodness. They describe their music as "existential R&B" and "kaleidoscopic minimalism," which you can interpret however you'd like, but it's evident in their live show that there's a quirky candidness about this group that sets them apart from other indie rock groups. Their harmonies mesh beautifully, reflecting the group's collaborative energy, and the music is just so darn cute and congenial!

Royal Canoe


Royal Canoe – If I Had A House SoundCloud
Saturday, 9pm @ Petit Campus, Sunday, 1pm @ Divan Orange
With a nice, full, six-piece band, Royal Canoe doesn't hold back from experimenting with the typical boundaries of the indie/electro-pop genre. Their songs are never totally consistent all the way through, with different instrumental arrangements at each moment, tricks with the time signature, and a dense textured effect created by the different styles of voices present within the group. I would guess that during their music making days in Winnipeg, there was some Animal Collective on their inspirational playlists.
Michael Rault


Michael Rault- Lay Right Down and Die SoundCloud
Saturday, 9:30pm @ Divan Orange
My first Canadian pick, Michael Rault, comes from Edmonton, Alberta —  hometown of Mac Demarco and the largest mall in North America. Rault crafts modern rockabilly hits with a lofi retro swing, creating the nonstop urge to start tapping your feet (a similar response one might have to the music of Mikhael Paskalev). When you listen, you'll want to do the twist, the jerk, and possibly even the mashed potato.
Calvin Love


Calvin Love – Magic Hearts SoundCloud
Thursday, 11pm @ Église POP Little Burgundy/Salle Little Burgundy
Though Calvin Love's approach to production is very minimalistic, his music is both reminiscent of early punk and still totally current in its incorporation of electronic tactics. Also hailing from Edmonton, Alberta, which seems like it must be a pretty cool place, Love sings about yearning for escape over pulsating bass notes and droning keyboard melodies.
A K U A


A K U A – Monsters SoundCloud
Saturday, 9:30pm @ Divan Orange
Montreal local, A K U A sings with soul and and groovy rhythms, despite the ethereal quality of echoing background vocals and airy synthesizers. Her music is nuanced and complex, and her sound goes far beyond the typical bounds of a solo singer-songwriter. She's also playing on the same bill as Michael Rault, a lineup not to miss.
Angel Olsen


Angel Olsen – Tiniest Seed SoundCloud
Friday, 8pm @ Ukrainian Federation/Salle St. Ambroise
Angel Olson, the Chicago-based minstrel, has one of those supernatural voices that sounds both fragile and incredibly forceful at the same moment. At times, she sounds to me like the female Roy Orbison with a comparable crooning warble that could melt your heart. In other instances, though, she resurrects the style of old folk singers, who focus much more on feeling than technique. These two things comgined create a very mystical and alluring affect.
Seoul


Seoul – Stay With Us
SoundCloud
Friday, 8pm @ Metropolis, Saturday, 8pm @ Rodos En Haut
Another Montreal band, Seoul is a drum-driven dream pop group with the rhythm section in the foreground and vocals delicately embellishing the background. There are hints of funk influences, but the chords are hazy and distant — a very popular effect right now. Even though Seoul is pretty fresh to the music scene, they're already playing with Local Natives and have a bright future ahead.
The Tontons


Tontons – Veida SoundCloud
Friday, 9pm @ L'Escogriffe
The Tontons,  a Houston indie rock band with a female lead, are a refreshing jolt of energy amidst the sea of ambient, reverb-soaked synth pop. With real instruments, real guitar solos and a killer leading lady whose pipes extend to many different ranges without faltering, they're not to be missed.
Radiation City


Radiation City – Summer Rain
SoundCloud
Wednesday, 9pm @ Il Motore
Radiation City will blow you away with their seamless sharing of the spotlight. The members really work together to deliver an immaculate product, and the fact that the band consists of two couples and a fifth wheel means there's chemistry to spare on stage. Radiation City is from Portland, which seems fitting because their tunes are very well suited to cheer you up on a rainy day. There's never a dull moment in the intricately woven tapestry of their music.
How Sad


How Sad – Indian Summer
SoundCloud
Thursday, 9pm @ Théâtre Corona Virgin Mobile, Friay, 1pm & 8:30pm @ Le Divan Orange
Hopefully, over the past few months, you've been able to catch Montreal natives How Sad at one of their NYC shows. While these have been consistently wonderful, I'm so excited to see them perform on their home turf, where I know that the crowd will be going wild. This group exhibits such vigor during their live performance, and their music perfectly matches the energy. See them once, and you're bound to fall in love with the whimsical lyrics and alternating vocal ranges. They're playing three times during Pop Montreal — be sure to check them out now before they totally blow up!
Plants and Animals


Plants and Animals – Light Show
SoundCloud
Thursday, 7pm @ Studio Breakglass
I consider folk music (or folk-leaning music) to be my favorite genre, but for whatever reason, none of my other Pop Montreal picks have fallen into that category except for Montreal-based Plants and Animals. Their music isn't overloaded with special effects — it is straightforward, tight, and breezily melodic. Featuring acoustic strumming, nostalgic crooning that resembles earlier classic rock and simple harmonies for a little extra texture, this trio packs a punch without having to dress their music up much at all.