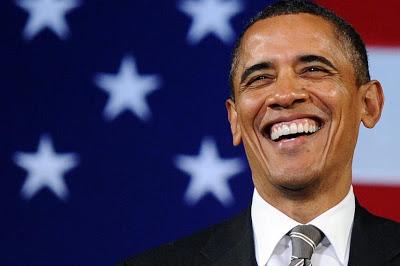 It's been more than three months since President Obama was overwhelmingly re-elected to a second term, and he's still riding high in the public's estimation -- while the Republicans in Congress seem to be intent on continuing to commit political suicide. Poll after poll has shown that the president is enjoying a newfound popularity (not seen since 2009) while the Republicans continue to lose support. This is probably because the president is seen as a moderate by everyone except the teabaggers, while most Americans are viewing the Republicans as extremists.
Now there are a couple of new polls, both by respected organizations, that seem to show this trend is continuing. The first is a poll commissioned by Bloomberg News (conducted between February 15th and 18th of 1,003 adults nationwide -- with a margin of error of 3.1 points). This poll showed the president with his highest favorability rating since September of 2009, while the Republicans have lost 6 points in just the last six months. Here are the relevant numbers:
PRESIDENT OBAMA
favorable...............56%
unfavorable...............40%
DEMOCRATIC PARTY
favorable...............47%
unfavorable...............43%
REPUBLICAN PARTY
favorable...............35%
unfavorable...............55%
WHO'S TO BLAME FOR THE PROBLEMS IN WASHINGTON?
Republicans...............43%
Obama/Dems...............34%
Not sure...............23%
Those are not good numbers for the Republicans. Basically no one outside the party views them favorably, and a clear plurality thinks they are the problem in Washington. And they don't fare much better in the second poll, which was done by Pew Research Center (done between February 13th and 18th of 1,506 random nationwide adults with a 2.9 point margin of error).
This survey also showed the president with a positive favorability rating (51% to 41%). But more important is that the poll shows the Republicans are doing themselves any favor by refusing to compromise on the sequester and reducing the deficit. Look at these numbers:
WHO WOULD YOU BLAME IF SEQUESTER CUTS ARE ALLOWED TO HAPPEN?
Congressional GOP...............49%
President Obama...............31%
Both...............11%
Unsure...............8%
HOW SHOULD THE DEFICIT BE REDUCED?
Spending cuts only...............19%
Tax increase only...............3%
Combination of cuts & tax increase...............76%
This shows the Republicans are playing with fire by refusing to consider a combination of spending cuts and tax increases (the Obama/Dem position). Not only does 3 out of 4 of the general public agree with the president's position, but so does a majority of rank-and-file Republican voters (56% for the combination and only 42% for spending cuts only). This means the congressional Republicans are trying to push a policy they can't even sell to a majority of their own party.
And it gets even worse for the GOP. When asked about a range of issues that the president is pushing, the poll's respondents favored the president's position over that taken by congressional Republicans.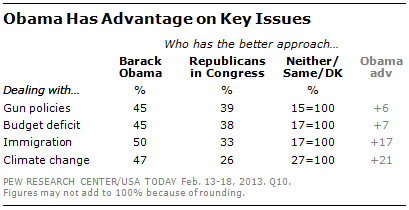 Republican leaders have talked a lot recently about improving their image with the voters, but the Republicans in Congress are not helping. They are still trying to obstruct anything the president tries to do -- even though most Americans disagree with them. If they keep this up (and they probably will), even their very effective gerrymandering may not keep them from losing more seats in the House (and maybe even the Senate) in 2014 -- and they can forget about the presidency in 2016.