Hey Eric & Sookie Lovers!
True Blood Wetpaint is hosting a poll  – which asks the question; "Would you still watch True Blood if Eric was killed off?"
Let's think about this for a moment…
Personally, Eric & Sookie are the reason(s) why I watch the show, but then again…I didn't read the books until after the first season ended. 

I liked it enough to
want
to know what the fuss was all about.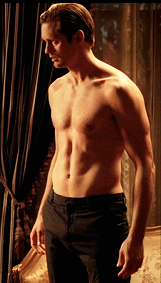 It's a very tough decision for me.
*Looks over to the right – at yummy Eric Northman*
But *wipes drool from mouth*…
I'd have to say, Eric is the main reason why I keep watching the show…so I guess that's a NO – I wouldn't continue watching it!
What would you do?
Cast your vote

here

!