Celebuzz.com is hosting a poll to decide which bad boy is hotter – Alexander Skarsgard (for his role in Straw Dogs) or Ryan Gosling (for his role in Drive)?!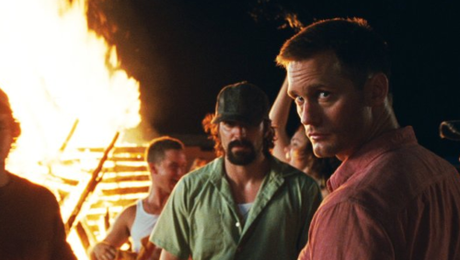 This is what they said…
This could be the hottest opening weekend of the summer. Both Ryan Gosling and Alexander Skarsgard had a movie hitting theaters, which got us thinking: Who's hotter?

Ryan stars as the sexy bad boy in the critically acclaimed movie Drive, while Alex plays the bad guy in the remake of the critically acclaimed movie Straw Dogs.  As a hotness expert, who would you say is the handsomer of the two: Ryan or Alexander? Cast your vote in the poll and defend your choice in the comments!

Drive is about "a Hollywood stunt performer who moonlights as a wheelman and discovers that a contract has been put on him after a heist gone wrong." The Hollywood Reporter describes the film as a "spasmodically violent, creatively cast and off-center fast-cars-and-crime drama." The film did win for Best Director at this year's Cannes Film Festival.
Unfortunately, Alex is LOSING this poll! We don't want to see this happen, especially after watching his performance in Straw Dogs! You know what to do…
Cast your vote here: Box office bad boy poll!
Thanks Eric & Sookie Lovers!