You remember that article we posted yesterday about TV Guide's Unsexiest Sex Scenes Vol. IV?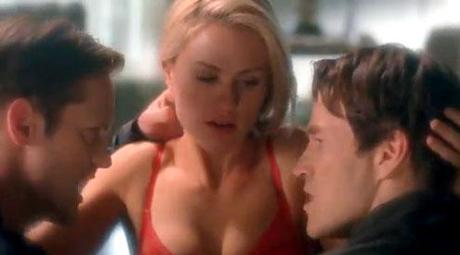 If not, you can read it here!
Anyways…True Blood Wetpaint is having a poll to find out what fans of the show thought about this scene!
Here's their take on it…
Uhm, whoa there. "Nightmare?" "Breathless quibbling?" "Shenanigans?" Don't. Even.

As far as we're concerned, there are only two explanations for TV Guide's slanderous words. 1) Their True Blood withdrawal has addled their brains. 2) They have no idea what "sexy" means.

Sookie's almost-threesome with Bill and Eric was every truebie's dream! What girl doesn't want to slip into some red lingerie and have two vampire kings chow down on her neck? Of course, a Bill + Eric makeout session would have been ideal, but we'll take what we can get.
Wha?? Are they on crack??

Are they watching the same show as us??
Judging from the comments on our site, I'd say we'd disagree wholeheartedly with their opinion! I think we should tell them that not everybody enjoyed that scene as much as they did! You know the drill…go over there and cast your vote!
Cast your Vote here!
Thanks Eric & Sookie Lovers!