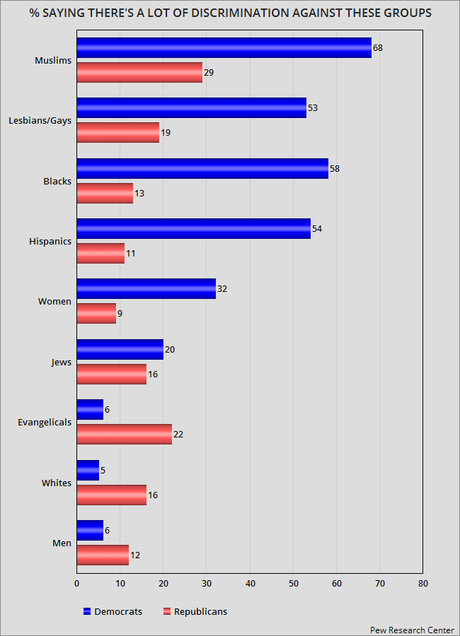 This chart reflects the results of a survey done by the Pew Research Center between September 3rd and 15th of 4,944 adults. The margin of error for Democrats is 2.9 points, and for Republicans is 3.3 points.
They asked Republicans and Democrats if they thought a lot of Discrimination existed in the United States for several groups. Democrats had majorities saying a lot of discrimination exists for Muslims  (68%), Blacks (58%), Hispanics (54%), Lesbians/Gays (53%), and a substantial amount existed against Women (32%).
There was not a majority of Republicans claiming a lot of discrimination existed against any group. About 29% grudgingly admitted a lot of discrimination against Muslims. They also saw discrimination against Evangelicals at 22%, and against Whites as 16% (both more than the 13% who saw a lot of discrimination against Blacks).
I guess this shouldn't surprise anyone. Most Republicans are white and many are evangelicals. They elected a racist to lead their party, and seem determined to protect white and male privilege in this country.
When it comes to recognizing and fighting discrimination in this country, there is a big difference between Republicans and Democrats.