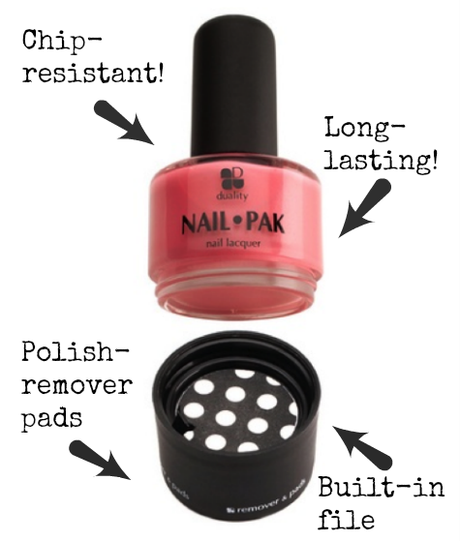 What if I told you there was a revolutionary new polish that had everything you needed built right into the bottle for a complete mani/pedi? Well prepare to have your polish-loving minds blown, mani mavens. Duality Cosmetics offers nail lacquers that also have polish removing pads and a file built right in. (Insert ooohs and ahhhs here!)
Duality Cosmetic's Nail-Pak ($15 each) is super chic (from the twist-off bottom to the polka-dotted file) and comes in a wide variety stunning polishes that are sure to make your lacquer-loving heart go pitter patter. Take a looksie:

Star Struck Fall 2012 Collection (colors left to right): Dakota, Keira, Zooey, Halle, Michelle, Meryl
To boot, Nail Pak offers a humongous variety of colors and collections (we're totally crushing on their 6-piece Star Struck Fall 2012 Collection at the moment) that are uber long-lasting and chip-resistent. To learn more about Nail Pak's clever all-in-one polishes head on over to their website.
A complete on-the-go mani/pedi system that comes in show-stopping colors? Polish multi-tasking at it's very best! Duality Cosmetics definitely "nailed" this clever concept…
What are your thoughts on this all-in-one mani system, beauty enthusiasts? Will this polish make its way into your lacquer lineup?
Crows' Feet, Cupcakes, and Cellulite does not accept compensation for reviews. Samples may have been provided. Opinions are 100% the author's own.