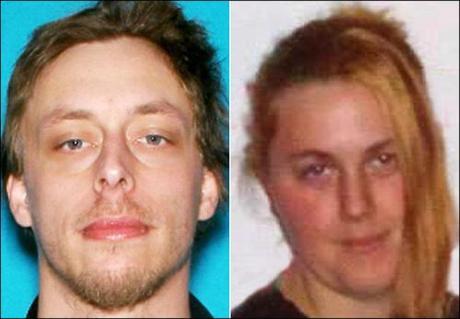 Jerad and Amanda Miller
Yesterday, Las Vegas police released a surveillance video showing the final moments of alleged Las Vegas shooters Jerad and Amanda Miller as they were holed up on the floor of a Walmart, pistols pointing at each other .
On June 8, 2014, the Millers shot and killed two Las Vegas police officers, Igor Soldo and Alyn Beck, at a pizza restaurant, draping one of the victims with a "Don't Tread on Me" flag, a swastika, and a note that said "The revolution has begun."
The couple then fled inside a Walmart, where Amanda Miller shot and killed customer Joseph Wilcox as Wilcox, who carried a gun, moved to confront Jarad.
The Millers then holed up in Walmart's automatic section where their last moments were caught by the store's surveillance camera, each pointing a gun at the other in an apparent murder-suicide effort.
"It looks like they are shooting at each other," an officer watching the video says in real-time, in a clip shared by authorities. "Looks like she just shot him."
But police said the bullet that killed Jerad Miller didn't come from his wife's gun, but from a police officer's rifle.
"None of the rounds that she fired hit him," Assistant Clark County Sheriff Kevin McMahill said at a news conference. "The male was shot, in fact, by police fire just prior to this incident," McMahill said.
As Jerad Miller lay mortally wounded, his wife turned her gun on herself, a scene authorities had removed from the released surveillance video clip. (Source: ABC News)
What do you think of the surveillance video clip? Why is there no flash of a gun firing? Why is there no blood?
~Eowyn